Movie Review: Die Hard with a Vengeance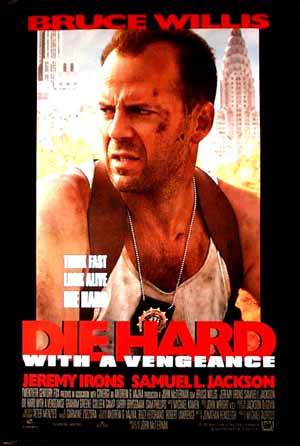 Fox, 1995
A movie that is close to my heart, because this was the first movie I ever built (the process of taking individual reels and splicing them together to form a print ready to show to an audience). This was after an aborted attempt to build Crimson Tide. I really didn't have a clue back then, but I slowly got it, and hence, the third chapter of the Die Hard series became my first print.
It had been 5 years since the last Die Hard, and even then it seemed like maybe John McClane (Bruce Willis) had gone through his window of opportunity to still be a viable hero in multiplexes. This proved to be somewhat correct: Die Hard with a Vengeance couldn't even beat its predecessor in box office dollars and there were 5 years of inflation to consider as well.
In this chapter, McClane is finally back in New York after adventures in L.A. and Washington D.C. made him a rogue cop hero. However, things aren't all sunny for McClane: his life is a bit of a shambles as he was kicked off the force for whatever reason, he's been drinking heavily, and he's estranged from wife Holly (Bonnie Bedelia didn't come back for this one). McClane is forced back into action when a bomber named Simon (Jeremy Irons) specifically asks the NYPD to play games with him.
It starts in Harlem, where McClane has to wear a sign with a racial slur on it. Playing the cooler head in a neighborhood of people who might want to kill him for the slur is Zeus (Samuel L. Jackson, reteaming in some respects with his Pulp Fiction co-star, even though they never had a scene together), who after a run-in with the more violent element in Harlem finds himself at a police station with McClane after a narrow escape.
Simon wants the two to work together, first with a bomb that he's planted on one of New York's trains, then in different areas around the city. They have to do it or Simon blows up a school. This is a subterfuge for Simon and his crew to yank billions of dollars of gold bullion from the Federal Reserve. And there are a couple of more surprises in store for McClane as to why Simon has chosen him and what his ultimate motive is.
I really enjoyed Die Hard with a Vengeance, even though it basically places our hero on a wild goose chase with rather "unexciting" games to play. It's also one of the most ridiculous action pictures you'll see. But with the likability of Willis as McClane, a before-he-was-in-everything Samuel Jackson playing sidekick, and some pretty nifty action scenes staged again by original Die Hard helmer John McTiernan, it's fun for the most part and delivers on the hard-boiled cop thrills.
In 1995, this chapter of Die Hard made a little over $100 million, finishing 10th overall, barely getting nudged later by Casper, Jumanji, and Seven.
Follows: Die Hard 2: Die Harder
Next: Live Free or Die Hard
Write a comment
You must be logged in to post a comment.