Movie Review: Mr. Brooks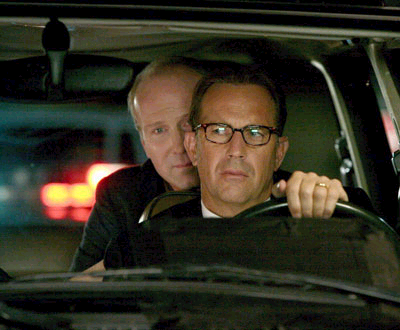 MGM
I usually don't read reviews of movies I am about to review.  I tend to think that if you feel a certain way about a film, and you see or hear something counter to it, then it makes you consider the other side too much and it colors the review.  I came out of Mr. Brooks thinking that a good portion of the Rotten Tomatoes critics would give this a favorable review.  But when I got home so late that it was early morning and people were reading newspapers around me, my eye caught the title of a bad review: "Babbling Brooks" and something mentioning how poorly written this movie is.
And in the cliche counter-critic response, I say, "I can't believe I watched the same movie as this guy."  But there is a part of me that believes certain critics see has-beens like Kevin Costner and Demi Moore in a cast and just can't give the movie a fair shake.  But, as they say, to each his own.
In Mr. Brooks, Costner plays Earl Brooks, the president of a boxmaking company who has been awarded Man of the Year.  He has a lovely wife, Emma (Marg Helgenberger), and pretty daughter Jane (Danielle Panabaker), and he also seems to have some sort of sickness…the need to kill, urged on by his alter ego Marshall (William Hurt).  In the beginning, we see Brooks do his professional, ghost-like work in killing an amorous couple in bed.  But on this occasion, he gets a little sloppy, not noticing the curtains are wide open.
"Mr. Smith" (Dane Cook) had been taking pictures of the couple, and captures Brooks, also known as the "Thumbprint Killer," in the act.  As blackmail, he wants to go along for the ride, and maybe kill someone himself, the next time Brooks goes out.  Considering this is a transitional period in the secret killer's life, where he wants to quit killing, this puts him in a bad situation, but he goes along with it, although he is always in control.
Detective Tracy Atwood (Moore) has been searching for the so-called "Thumbprint Killer" for years.  She has her own personal drama involving an ex-husband suing for a divorce settlement and a maniac killer who wants her dead.  She believes someone saw the latest killing, leading to her questioning of "Mr. Smith," who later relays the information to Brooks, who uses this information to his advantage.
I loved this movie.  The interplay between Costner and Hurt is always entertaining, it's what makes the film.  But there are some clever plot developments and some surprises that just made me want to see what happened next throughout the feature.  Yeah, it's not entirely believable; there are some efforts here that strain credibility, but I think you have to look at Brooks and his story as almost graphic-novel-esque.  The movie is not aiming for realism in the traditional sense.
I think this is one of Costner's best performances, and Hurt's is equally good.  I also liked Demi Moore, who at 44 still looks dynamite and is a real badass in this flick.  And that leads me to writer/director Bruce A. Evans.  Where in the world has this guy been for ten years?  After a string of scripts that flopped in the nineties, he probably felt like throwing in the towel.  This is a very good return.
Comments
Write a comment
You must be logged in to post a comment.