Movie Review: Knocked Up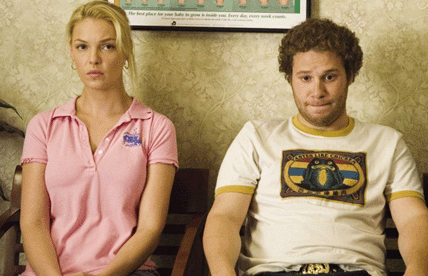 Universal
It's not common to see films as dirty, yet somehow come off endearingly sweet, as Knocked Up.  Apatow pulled off the trick in 2005 with The 40-Year-Old Virgin, a movie that became a "surprise" hit.  I feel this balance draws the (extremely important, if you didn't know) female crowd more than the typical frathouse flick because at the center of all the dirty talk is a sincere love story, one with as much thought as the raunchy playfulness.
In Knocked Up, Ben Stone (refreshing non-matinee-idol Seth Rogen, who ran off with 40-Year-Old Virgin) meets Allison Scott (Grey's Anatomy's Katherine Heigl, one of the most beautiful women you'll ever see) at a club and in a magic moment is able to capture her attention enough so that they start getting drunk together, dancing, and eventually coming home to do the do.  Eight weeks later, Allison starts throwing up and finds out she's pregnant.  What to do?
Considering that Ben wants to start a website devoted to helping people find actress nude scenes, along with his fellow stoners/slackers (Jonah Hill, Jason Segel, Jay Baruchel, and Martin Starr, all using their real names), and Allison is a burgeoning E! correspondant, their personalities and lives don't exactly mix.  But Allison wants to keep the baby and wants to give Ben a fair shake, and they try to begin a relationship.  Making them slightly ansy is Allison's sister Debbie (a terrific Leslie Mann) and her husband Pete (Paul Rudd), who have fallen into a rut of a marriage and seem one bad event away from having it truly shaken.
And thus, we see how this relationship goes through its ups and downs for the duration of Allison's pregnancy, and we see some absolutely beautiful rants, the trademark of this film.  Ryan Seacrest, of all people, sets the tone early, and there are some classics from Seth Rogen and Leslie Mann where the word "fuck" is used a lot but you'll swear it needs every single one of them.
One slight problem with Knocked Up is that much of its humor in the beginning involves celebrity references which will date the film over time, but for now, they're very funny.  And I never really understood what Allison starts to see in Ben for the love story to take place.  But I can't argue with a movie that made me laugh throughout, and where the dramatic scenes contain just as much weight and thought.
Apatow has hit another home run.  Go see it. 
Comments
Write a comment
You must be logged in to post a comment.