Movie Review: Ocean's Twelve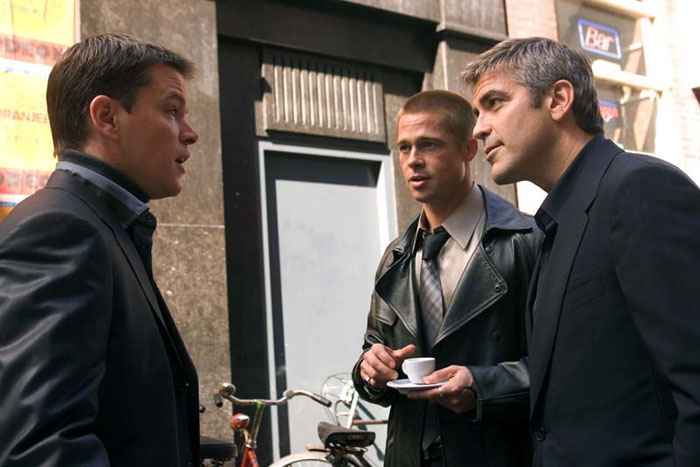 Warner Bros., 2004
Steven Soderbergh hasn't hit his top form since 2001's remake of Ocean's Eleven, but for me, this is his best film since.  Most people hated this flick, but I think this is one of the loopiest films I've ever seen and I dug it.  The production, taking place in several locations around Europe, was noted mostly for the partying of the stars.  The goofing off is pretty evident.
Danny Ocean (George Clooney) and the gang reprising their roles including Brad Pitt, Matt Damon, Eddie Jemison, Bernie Mac, Don Cheadle, Shaobo Qin, Casey Affleck, Scott Caan, Carl Reiner, and Elliott Gould, have been tracked down by Terry Benedict (Andy Garcia), who wants his money back, plus interest, from the casino heist of Ocean's Eleven.  The only way they can do this is to find several high-paying jobs from a man named Matsui (Robbie Coltrane), who oversees some of the best jobs in Europe.
The crew begin their work on the first robbery only to find out that someone has beaten them to the punch, a man named the Night Fox (Vincent Cassell).  The Night Fox presents a challenge to Ocean: If he can steal a prized egg from a museum before he does, he will give Ocean the money he needs to pay back Benedict.  The Night Fox only wants the recognition as the best thief in the world.  Tracking the Night Fox and Ocean's crew is Isabel Lahiri (Catherine Zeta-Jones), who once had a relationship with Rusty (Pitt).
The heist of the egg eventually needs Tess (Julia Roberts) to play a role, as she fills in the "Twelve" of the title.  Her role is one of the reasons why this movie is hated by most but guiltily enjoyed by others like me.  There are several of these "fooling around" scenes that divide viewers on to whether this is entertainment or just a very long assortment of deleted scenes.
But for me, in addition to that Julia Roberts scene, there's the madcap dance through a bunch of security lasers that Cassel's character performs, and the scene where Danny, Rusty, and Matsui confuse the hell out of Linus (Damon) with completely non-sequiter dialogue.  But is it Ocean's Eleven?  Sure isn't.  Is it fun?  I thought so.
Ocean's Twelve didn't quite pack the punch of Ocean's Eleven at the box office, either.  It had a better opening weekend but it ended up with a little over $125 million in domestic receipts, still a decent hit.  It was 14th in the incredible box office year of 2004.
Follows: Ocean's Eleven
Next: Ocean's Thirteen
Comments
Write a comment
You must be logged in to post a comment.