Movie Review: The Invisible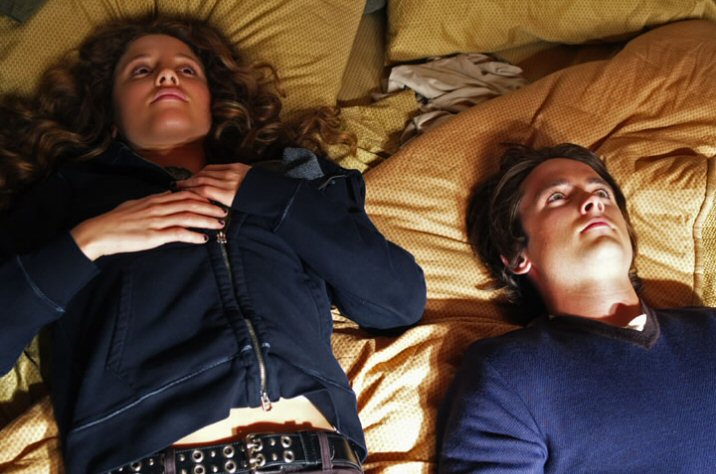 Hollywood Pictures
The Invisible is either a remake or a new adaptation of Den Osynlige.  The original film's writer, Mick Davis, is credited here.  Originally slated for January, this film probably went through numerous passes before getting finished.  And well, what do you expect?
Nick Powell (Justin Chatwin) is apparently a fairly popular kid who sells fellow students test answers and essays on the side.  He has an emotionally distant mother, Diane (Marcia Gay Harden), who disapproves of his plans to go to London and take writing classes.  One day, his world gets mixed up with bad girl Annie Newton (Margarita Levieva) through his friend Pete (Chris Marquette), who owes Annie money.
When Annie steals from a jewelry store and is eventually arrested at school, she thinks Pete was the one who ratted her out, so she and her goons go to rough him up.  Pete, thinking Nick is on a plane to London, tells them that he was the one who ratted her out, so Annie and company track down Nick and beat him down, so much so that they think they've killed him.  They hide the body.
Nick wakes up and finds that people don't see him and talk about him like he's not there.  Every time he thinks he does something, he finds that nothing has changed at all.  He thinks he's dead, but he eventually finds out that he's still alive.  How in the world does he communicate this?  Well, it's pretty difficult, and it seems like only Annie can hear him some of the time.  Annie, who comes from a bad domestic situation and cares for her little brother, has a soft side after all and begins to want to do the right thing…but will she?
This movie has a lot of ideas swirling around that never hit home, and it's obviously been chopped to death.  The trailer was a huge liar, too.  But this movie is not much more than Nick futilely yelling at people and it gets annoying really quick.  Many of the characters' actions don't make sense, there's no real mystery to it, and ultimately, hell, Nick Powell isn't interesting enough a guy for you to really care whether he lives or dies.
Yep, it's your typical January movie, three months late.  Margarita Levieva has a future, I believe, though.  She's really cute and she worked out the most complex character of the film.  Might want to look for more of her in the next few years.
Comments
Write a comment
You must be logged in to post a comment.