Movie Review: Licence to Kill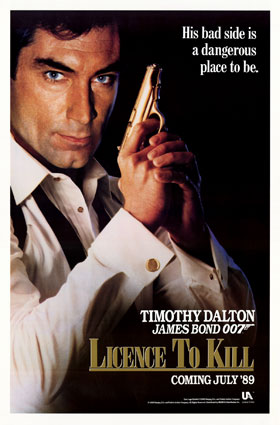 United Artists, 1989
Licence to Kill is quintessential eighties. Back in that decade, Steven Seagal and Jean-Claude Van Damme had made an incredible living and star status by making revenge films. It was always a best friend, or a family member, or a partner, who would get killed and Seagal would go beat everyone's ass until he got to the one responsible. Van Damme would always go fight in an underground tournament and get revenge in no-rules competitions.
As if in complete response to this wave of revenge films, Licence to Kill turns Bond into a rogue agent. His CIA friend Felix Leiter (David Hedison, the only actor to ever reprise this role…from 1973's Live and Let Die) has his wedding and honeymoon spoiled by hired thugs (including a very young Benecio Del Toro) of drug kingpin Franz Sanchez (Robert Davi) by being fed to sharks. Don't worry, he only gets badly hurt, even though the film leads us to believe Leiter will be dangling as shark food until he is completely eaten, something that never made sense when he survives. Oh well.
Bond starts killing a bunch of people, completely out of his jurisdiction, and the US DEA guys (one played by Grand L. Bush, who played Davi's FBI partner in the previous year's Die Hard) tell him he has to obey the law. M gives him the reprimand, Bond goes rogue, and the games begin.
Bond makes off with a plane full of cash from Sanchez's seafaring middleman Milton Krest (Anthony Zerbe), starts posing as a freewheeling big spender at Sanchez's bank and casino, infiltrates it and earns the trust of the big man, and learns his grand scheme: getting a whole bunch of investors to become huge drug kingpins with a $100 million buy-in (of course), all with a process of hiding the drugs through an elaborate chemical process involving gasoline. There's also media help from posing televangelist Joe Butcher (Wayne Newton), who takes drug orders on TV disguised as donations.
Helping Bond in all this is Sanchez's hot girlfriend Lupe Lamora (Talisa Soto) and CIA chick Pam Bouvier (Carey Lowell). Even Q (Desmond Llewelyn) gets in on the field action…a little bit.
Licence to Kill is actually not as bad as I remember. It's the better of the Dalton Bonds and it's better than quite a few of the Moore Bonds. Dalton even shows a little bit of humor in this one, even though the storyline starts off decidedly darker than most Bond fare.
With that, the franchise definitely needed retooling. This kind of action film was going to fade fast when Terminator 2 hit screens a couple of years later. It might have been a good thing that the rights to make Bond films got caught up in legal battles for a few years, leading to the six-year drought of Bond films, a record.
Licence to Kill marked a huge turning point for the 007 franchise. Though it made some good money worldwide, it was a huge flop in the United States. Timothy Dalton was as good as gone with that kind of box office performance. Director John Glen would make his fifth and final Bond in the decade that was all his. It was also the first Bond movie not to have a full story, short or otherwise, from Ian Fleming, although elements from other stories (like Live and Let Die) are used in a couple of scenes.
Returning in Licence to Kill: Llewelyn in his 14th Bond picture, Robert Brown plays M for the 4th and final time, and Caroline Bliss in her 2nd and last time as Miss Moneypenny.
Writer Richard Maibaum's involvement with this film was muted with the writer's strikes of 1989, and essentially this is all Michael G. Wilson's script. Maibaum, who had participated in thirteen of the sixteen Bond films from 1962-1989 (his only absences were You Only Live Twice, Live and Let Die, and Moonraker), would die in 1991 and this would be his last Bond film under any capacity.
Also gone after this would be Maurice Binder, who was the mastermind behind the title sequences. After Dr. No, Binder was absent from From Russia With Love and Goldfinger but would do every one of them afterwards until 1989, a total of fourteen films. He also died in 1991.
It would also be the last Bond film produced by Albert R. "Cubby" Broccoli, passing the baton to his wife Barbara and stepson/screenwriter Michael G. Wilson. Broccoli would die in 1996, months after the next film Goldeneye was released.
Follows: The Living Daylights
Next: Goldeneye
Write a comment
You must be logged in to post a comment.