Movie Review: Shrek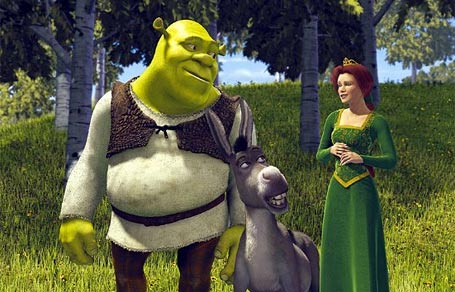 Dreamworks, 2001
Since 1995, Disney's Pixar had ruled the CG animation market and the only other real competitor was Dreamworks, who previously came out with 1998's Antz.  Shrek became Dreamworks' flagship franchise, much like Toy Story was Pixar's, and went on to win the inaugural Best Animated Feature at the Oscars, besting Pixar's Monsters, Inc. and Paramount's Jimmy Neutron: Boy Genius.
It's a subversive fairy tale, where the conventions of fairy tales are skewered, and so the tone of Shrek is well on the smart-ass side.  Shrek (Mike Myers), a loner ogre, finds a bunch of fairy tale characters in his swamp one day and goes to Lord Farquaad (John Lithgow) to complain.  Farquaad agrees to give Shrek total control of his swamp back if he retrieves Princess Fiona (Cameron Diaz) from her dragon-guarded, lava-surrounded castle.  Farquaad needs to be married to get control of the kingdom and he has chosen Fiona to be his bride.  Shrek takes the annoying new "friend" Donkey (Eddie Murphy) with him to help save the princess.
After saving Fiona, the princess wants the fairy tale romance, thinking Shrek is her true love.  But when he unmasks, she realizes how hideous he is.  However, Fiona has a secret, one that makes her warm to the ogre and on the way back to Farquaad's castle the two begin to like each other.  Still, how would they make it work, especially since Fiona is reticent to tell her secret?
I've been on record over the years as to how underwhelmed I am with Shrek and its sequel.  The Dreamworks team makes a lot of smart-ass films with hardly any soul to it.  Shrek is still their best to date, as it has a certain edge to it, and they were able to balance a family film with some darker material.  There are some truly funny moments in Shrek (the reaction of Shrek and Donkey after a Disney-esque theme park "welcome song" is priceless).  But watching this again, it leaves a lot to be desired for the most part.  Plus, being subversive is one thing, but then ending up playing along with the conventions of a fairy tale is a bit of a cop-out.
Monsters, Inc., by the way, was a much better film that made almost as much money.  There's a lot to be said for imagination and rich characters, and Shrek gets some of it right.  It's just an overall mixed bag for me: there are long stretches where I didn't laugh, and the adventure is a bit too straightforward.  (Shrug). 
In 2001, Shrek grossed over $260 million and currently sits at #30 on the domestic all-time chart.  It was #3 in 2001, behind Harry Potter and the Sorcerer's Stone and Lord of the Rings: The Fellowship of the Ring.
Next: Shrek 2Â 
Write a comment
You must be logged in to post a comment.