Movie Review: The Living Daylights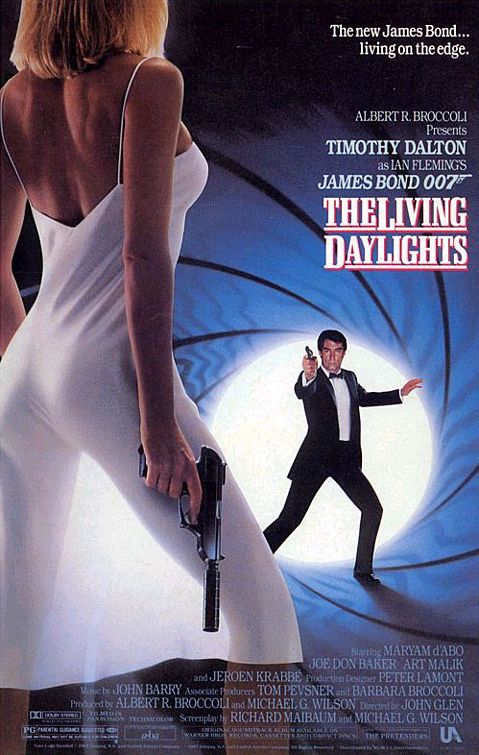 United Artists, 1987
With Roger Moore retiring as Bond in 1985, Albert R. Broccoli turned to 43-year-old Timothy Dalton, a man they had pursued in 1969 for On Her Majesty's Secret Service but turned it down because he felt he was too young for the role. With Dalton, EON Productions would be getting yet another interpretation of the Bond character, and this time it would be a rougher-edged guy. Sean Connery's ability to do anything with the role made him a tough comparison for anyone to follow; Roger Moore retained most of the qualities, but the Dalton era was an attempt to be "more realistic."
It was after A View to a Kill that Broccoli pursued Pierce Brosnan, who was actually tapped to play Bond in the new film, but the dying TV series Remington Steele found a way to produce a couple of more episodes and therefore, the contractually-obligated Brosnan could not take on 007 during this time. I wonder if this was a blessing in disguise.
Returning to the 15th Bond is Robert Brown as M (his third) and Desmond Llewelyn as Q (his 13th). Miss Moneypenny was taken over from Lois Maxwell by Caroline Bliss. Felix Leiter would be played by a different actor (John Terry) for the sixth time in the EON franchise. It would be the final score by composer John Barry (his 10th).
The pre-credit sequence of this film is kind of cheeky, with hopeful 00s participating in a paintball wargame, only to be cut down by a real assassin. The agents purposely look like George Lazenby and Roger Moore, so as to introduce the newest Bond, Dalton. An OK song from A-Ha follows.
The main story involves Bond's protection of a Russian General Georgi Koskov (Jeroen Krabbe). Bond thwarts an attempt on Koskov's life by a cello player named Kara Milovy (Maryam d'Abo), and is criticized for not killing her; but Bond suspects Kara is no assassin and looks to delve deeper. Bond then helps Koskov defect, but it's not long before he's kidnapped again, and suspicions fall on another general, Leonid Pushkin (John Rhys-Davies).
Like many Bond films, there's a "nothing is what it seems" quality and so, of course, Koskov is the real bad guy and Pushkin is the good guy. In the middle of all this is failed West Point man Brad Whitaker (Joe Don Baker, playing his first of two different characters; he would later appear in Goldeneye), who is supplying weapons to Koskov and the KGB in return for diamonds. To add even more complexity to the plot, Afghanistan's Mujahideen is mixed up in this web, led by Kamran Shah (Art Malik); the plot of Whitaker and Koskov involves paying diamonds for opium, opium for cash, cash for weapons to supply to the Soviets, who are fighting the Mujahideen.
Sounds a lot like the Iran-Contra Scandal, doesn't it? The 1986 event no doubt shaped some of the plot details. But this is just way too complex for its own good, a tremendous mess. When Bond movies throw a hundred characters at you, with double-crosses galore, and briefly-mentioned motivations, it becomes more of a job to watch the movie than just sit back and relax and take in some action.
How is Dalton as Bond? Remembering that Connery had it all, and Moore had most, though not all, of the qualities of Connery, Dalton has only one of those qualities really, emphasizing toughness. He could be humorous here and there, but it wasn't his forte. He could deliver the action and the anger; Dalton probably played Bond more personally than any of the previous actors and more than his successor Pierce Brosnan, only recently surpassed in this category by Daniel Craig.
In his two films, some of his decisions had a decidedly unprofessional quality to them, which is actually quite interesting. It wasn't his fault that he was stuck in this "mirror the times; ripped from the headlines" film, an exhausting one at that.
Follows: A View to a Kill
Next: Licence to Kill
Comments
Write a comment
You must be logged in to post a comment.