Movie Review: Disturbia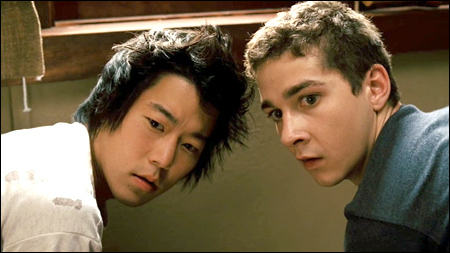 Paramount/Dreamworks
Disturbia is mostly Rear Window with a healthy dosage of the Tom Hanks comedy The Burbs.  And in our modern times, spying on someone has its negative connotations: we are instantly transported into Big Brother land, where if it looks bad it must be bad.  Disturbia, unfortunately, doesn't really have any balls and it's pretty much what you would expect.
Kale (Shia LaBeouf) gets into a horrible accident that kills his father (Matt Craven), and a year later when a Spanish teacher makes a seemingly innocent remark about Kale's dad, Kale lands a punch that leads to a three-month house arrest.  He doesn't have much to do while he sits around moping and angering his mother (Carrie-Anne Moss, so he's eventually taking binoculars and scoping out the neighbors.  One is hottie Ashley (Sarah Roemer), and another is potential psychopath Mr. Turner (David Morse).  His bud Ronnie (Aaron Yoo) provides comic relief.
Listening to the news about a killer on the loose with a car matching Turner's, Kale begins to suspect he's the guy, and Ashley and Ronnie, also bored teens looking for something to do, are willing to help out.  So the movie, much like its predecessors, becomes "Is the creepy neighbor really killing people?  Inquiring minds want to know."
But, you know, Rear Window had Hitchcock going for it and the spying had a tense quality, especially since Jimmy Stewart's binoculars seemed to be on the verge of something chilling in every frame.  And the mystery in that movie is solved with some intelligence.  Here, we're given the big runaround, and nothing is done with any intelligence: it's a bunch of suspicions that lead to those boring confrontational scenes and "Cry Wolf" setups.
I don't think I can really spoil anything this movie has to offer, but I probably would have made this in a different way, where suspicion becomes the antagonist of the movie.  And there would have been some more exciting scenes, building tension as the movie went along, and we could have had a nice psychological thriller.  As is, this movie goes pretty much where you expect it and isn't all that fun getting there, either.  At least LaBeouf is a likable actor and Roemer is easy on the eyes.  Other than that, well, I don't recommend this.
Comments
Write a comment
You must be logged in to post a comment.