Movie Review: The Hoax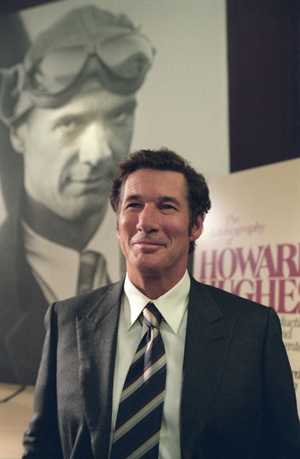 Miramax
Back in the day, movies made by Lasse Hallstrom were primed for easy Best Picture consideration and other Oscars.  After What's Eating Gilbert Grape? made a star of Leonardo DiCaprio, Hallstrom got a nomination for The Cider House Rules and his stunningly mediocre Chocolat weaseled its way into a Best Picture nomination.  Since then, Hallstrom has come out with Oscar-bait-failure The Shipping News, the forever-delayed An Unfinished Life, and pop confection Casanova.
Here's another long-delayed release, but it's very good, and puts Hallstrom back on track.  I've seen snippets of reviews saying Richard Gere might have (easily) gotten an Oscar nomination had the movie come out last year as planned.  It would have been his first, for an actor many consider one of the most underrated of all time.
In the based-on-a-true-story The Hoax, Gere plays Clifford Irving, a writer who seems on the verge of stardom until his latest book gets trashed by Time magazine before it's even published.  McGraw-Hill passes on the book, and Irving goes back to frustration.  Seems like nothing in his life is working: his marriage to Edith (Marcia Gay Harden) has just gotten back to precariously steady after an affair with Nina Van Pallandt (Julie Delpy), and the only solace he can find is in his friend and researcher Dick Susskind (Alfred Molina).
Irving concocts a plot to write a fake autobiography of Howard Hughes, in 1971 a mysterious, eccentric billionaire.  He claimed that out of the blue, the powerful American icon contacted him to write this book, supplying forged documents.  It would be well-researched in the attempt to fool anyone who considered himself an expert on the man.  But what the film also explains is that Irving's ability to think of a story on the fly, using method acting to sell it, also contributed to a suspicious lot being utterly convinced that Irving's claims were genuine.
Of course, in a movie called The Hoax, we know the subterfuge won't last.  Much like Catch Me If You Can and Shattered Glass, the fun is watching how long a total bullshitter can get away with something, and what they accomplish is stunning considering all the scrutiny.  Gere is absolutely on top of his game here, much like he was in Chicago, where he played a rather similar character.  He gives people the old razzle-dazzle; what people want to believe.
Where I think The Hoax starts to crumble just a bit is when it gets into conspiracy theories: Irving believes Hughes wants the book to be published, and specifically wants damning information about his bribes to current President Nixon concerning a multi-million dollar lawsuit against his airline, TWA, to be included.  All of this is told in a liar's mind, a man who can't keep his lies and ambition from feeding off of each other.  While it can be tense and interesting to see Irving squirm under the power of Hughes, we're better just to stick with the main story.
But Hallstrom delivers a winner here.  Usual good work from the likes of Molina and Harden ably support Gere in an overall very entertaining movie.  Set to expand over the next few weeks, try to catch it when it comes to your area. 
Comments
Write a comment
You must be logged in to post a comment.