Movie Review: Firehouse Dog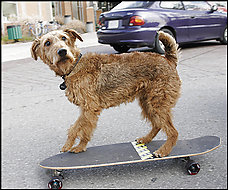 Fox
Hey, here's something new: a movie about a dog.  Oh, but not just a movie about a dog, but a mystery!  That's not all.  You get cheap Hollywood satire!  A father-son film!  A romance!  It's Backdraft meets Air Bud meets the framework of Doc Hollywood.
Rexxx (played by four dogs) is a pampered Hollywood star, a famous action hero who even gets billing on the posters.  Funny titles here: Jurassic Bark and The Fast and the Furriest.  After falling out of a plane without his parachute into a truckload of soft tomatoes (whew, how lucky!) Rexxx becomes a lost dog, until he is saved by one special little boy, Shane Fahey (Josh Hutcherson).
Shane's a bit of a troublemaker, he skips school and stuff.  His dad Connor (Bruce Greenwood) is a firefighter who lost his wife years ago and has recently lost his brother, who once was the captain of the proud Ladder 55.  Connor thinks a rash of fires, including the one that killed his brother, might have been the result of arson.  Hmm…let's see…who could possibly be setting these fires…Well, maybe kids will have a hard time figuring it out.  Then again, who cares?  This is (supposed to be) a stunt dog movie.
It's not long before Rexxx, renamed Dewey, shows his prowess and becomes an actual hero firehouse dog.  Meanwhile, his Hollywood handler Trey Falcon (Dash Mihok) grieves, but it's only so long before he'll find out where his dog is.
And there's a whole bunch of business concerning love interests for all the male characters.  It's a messy film, one that wants to be lots of things and ends up coming short on most counts.  It's got all the poop, burping, and farting of hundreds of other family films.  I generally can't stand how dense people can be in these types of movies: if Rexxx is one of the most recognizable faces in Hollywood, how in the world does no one know that he's the dog people are looking for? The movie explains: it's because he's not wearing his toupee.  Oh yes, of course.
Also, the film works hard to make Shane hate Rexxx at the beginning, and for some reason Shane doesn't find a lot of the things Rexxx does amazing.  He just sits there with a puzzled look and says dumbly, "You're a strange dog."  Yes, it's strange…not completely and totally cool like most kids would think.
Yeah, I pretty much hated this.  I know family films' hearts are usually in the right place, and this has the right heart, but just no awareness of how dumb and slipshod it is.
Comments
Write a comment
You must be logged in to post a comment.