Movie Review: The Last Mimzy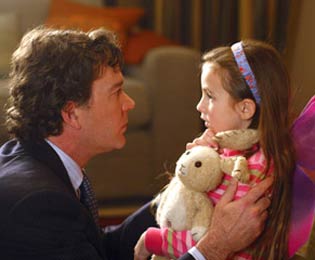 The Last Mimzy
Directed by Robert Shaye
Written by Bruce Joel Rubin and Toby Emmerich from a screen story by James V. Hart and Carol Skilken based on the short story "Mimsy Were the Borogoves" by Henry Kuttner and C.L. Moore
New Line Cinema
The live-action family movie finally seems to be getting some imagination again, after last month's Bridge to Terabithia and now The Last Mimzy, another fine outing with the kids. This one takes a similar structure to E.T. or The Iron Giant, which are perfect models.
Noah (Chris O'Neil) and Emma Wilder (Rhiannon Leigh Wryn) find a strange stone on the beach at a summer house owned by parents Jo (Joely Richardson) and David (Timothy Hutton). It contains a bunch of artifacts that do some cool things, but the purpose seems unclear. A stuffed bunny gives Emma the power of foresight, and Noah's brain seems to be rapidly accelerating in science.
Jo and David know something's going on with their kids, but can't quite put their finger on it. Noah's teacher Larry White (Rainn Wilson) and his wife Naomi Schwartz (Kathryn Hahn) seek them out and provide some knowledge but they admit that this kind of thing is out of their depth.
One day Noah tries to combine two of the artifacts and a blackout occurs, bringing Homeland Security to their door. Whatever these artifacts are, they could be dangerous…or are they simply hope from the future?
Although this movie isn't nearly perfect, it's fun. As much as I like The Office's Rainn Wilson, he and his wife don't add much and the ending is wrapped up a little too easily when considering Homeland Security is involved. But I enjoyed the ride for the most part all the way up to the finale, where the pieces finally come together and everything makes sense. It's just a cool movie overall.
Comments
Write a comment
You must be logged in to post a comment.