Movie Review: Premonition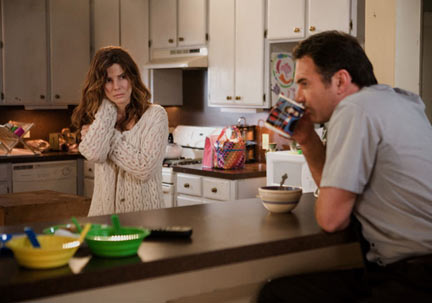 Sony
Sandra Bullock pretty much just did this flick with The Lake House last summer, only the premise has changed a slight bit and the results are even worse.  The twisty thriller is in dire need of a makeover.  It has one of the dumbest endings in the history of film.
In Premonition, Linda Hanson (Bullock) is married to Jim (Julian McMahon) and has two cute daughters (Shyann McClure, Courtney Taylor Burness).  One day she's being told that her husband has died in a car crash, the next she's waking up finding him alive.  The week goes like this in various stages of the week back and forth, and once she figures out what the hell is going on she's got to narrow down the day her husband dies so she might stop it.
Oh, but there's a couple of complications.  Seems as though Jim might be having an affair with someone at work, Claire (Amber Valetta).  And she has to get her life together.  We see some inconsequential dramatic sequences involving Linda being sent to a mental institution, confronting Claire, watching one of her kids get badly hurt during a thunderstorm, trying to reach out to her husband.
And so it goes.  The decision of whether or not to save her husband isn't that much of a driving force, but trust me, when the decision is made, some of the most boneheaded blunders made by a character in any movie I have ever seen are committed.  It's downright laughable.  Yapo also loves trucking his camera slowly towards characters to build suspense, which becomes infuriating for so many reasons: we usually know what we're going to see, so the suspense isn't effective; and even when we don't know what we're going to see, the revelations have no real bearing on the story.  They may allow Linda to piece together what day she's living, but they don't enrich the plot.
Also, get ready to hear the sound of a bell backwards many times.  Comparing this film to Groundhog Day and Memento would be a large insult to those two fine films.  An early contender for Worst of 2007.
Comments
Write a comment
You must be logged in to post a comment.