Movie Review: Chicago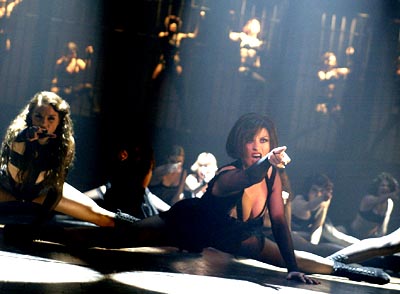 Miramax, 2002
2002 was going to be the year that Martin Scorsese finally won his Oscar, but he unfortunately made Gangs of New York under the Miramax label and when it and Chicago entered the Best Picture race together, he may have fallen victim to a lot of campaign nonsense: The Weinsteins lobbied for Chicago for Best Picture and Scorsese as director, but instead, Best Director went to Roman Polanski (his first), out of nowhere, for The Pianist.
Chicago was one of my favorites of 2002, not because it's one of the best films, but mainly because it was so much fun.  A musical that probably owes its existence to Moulin Rouge's success a year before it, Chicago makes its song-and-dance numbers seem a little less out-of-nowhere spontaneous than others of its kind by staging the numbers completely apart from the dialogue, making it seem less ridiculous when the actors break out into song.  At least that's my opinion.
It's the story of Roxie Hart (nominee Renee Zellweger), who has an adulterous affair because she thinks he can help her get a singing career.  When it's found out that he can't, that he's been promising this just to get in her pants, she shoots and kills him.  Off to jail, where her naive husband Amos (nominee John C. Reilly) tries to get her some help, trying to enlist the services of lawyer Billy Flynn (criminally un-nominated Richard Gere), who is pretty shady as you would expect. 
Flynn represents another woman-in-peril, Velma Kelly (Best Supporting Actress Catherine Zeta-Jones), and her murder case could mean big fame and fortune.  He only agrees to represent Roxie when he finds out her story could garner even bigger fame and fortune.  Naturally, this puts a rivalry between jailbirds Roxie and Velma.
It's a humorous movie, especially when Flynn puts on the old "Razzle-Dazzle" and starts bending the truth of the case through the media, delightfully displayed in the number "They Both Reached for the Gun," in which the media is shown as a bunch of Flynn's puppets, swallowing anything he says.  The movie makes light of a moral code, in which lying, cheating husbands deserve their fate as murder victims.
My favorite moment?  When Amos sings "Mr. Cellophane," with lyrics concerning his absolute lack of impact and lamenting his Nobody status, "and no one knows I'm there," se sings.  After he's finished with the song, he's shown in Flynn's office waiting patiently in a chair, and Flynn, reading a paper, remarks, "Oh, Amos, sorry, didn't see you there."  It's that kind of flick, and if you're down with it, it's just a good time.
But Best Picture…well, I'm not sure about that.  I'm not even sure about Scorsese's Gangs of New York, either, although I'm certain he should have won Best Director anyway, not because of a token gesture but because of his work, which I feel was probably marred teaming up with the Weinsteins, as the film is a bit of a mess.  It beat Stephen Daldry's The Hours, which I didn't like at all, Peter Jackson's second Lord of the Rings film, The Two Towers (which might arguably be the consensus favorite of the trilogy), and the aforementioned The Pianist, which after the surprise win of Adrien Brody over Daniel Day-Lewis' incredible Gangs performance, I thought might go ahead and win Best Picture too.
Movies that could have been considered were either of two Spielberg films, Catch Me if You Can and Minority Report, the latter making many top 10 lists at the end of the year.  I also loved The Quiet American, Adaptation, and About Schmidt.
Queen Latifah got a nomination in this, too, for playing a prison matron.  It's one of those performances that don't have much bearing on the film as a whole, is almost nothing more than a memorable cameo, but the Academy loves to reward those kinds of performances.
Write a comment
You must be logged in to post a comment.