Movie Review: Ordinary People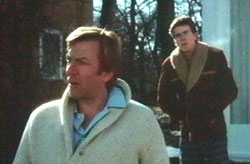 Paramount, 1980
After the Academy awarded Kramer vs. Kramer Best Picture over the dark Apocalypse Now, they followed suit the next year by giving Ordinary People the prize over Martin Scorsese's Raging Bull.  We remember the seventies as the last great decade for the studio picture, citing numerous heavy hitters, but the Academy rarely rewarded the darker fare, giving them token nominations.
This is a trend that would occur all throughout the eighties.  Not one Best Picture from this decade could be considered really dark other than Platoon.
Redford, of course, had an amazing acting career going before this directorial debut, one of the true stars of the past decade.  He will likely forever be lumped in with Kevin Costner as an actor-turned-director who beat Scorsese with his debut film.  But Scorsese proved to be a sport 14 years later by appearing in Redford's Quiz Show.
In Ordinary People, a troubled teen, Conrad Jarrett (Timothy Hutton, who with this debut became the youngest Best Supporting Actor at 20) is still coping with the death of his brother, Buck (Scott Doebler).  He has tried to commit suicide, has just gotten out of a hospital, and he sees his parents, the everything's-okay Calvin (Donald Sutherland) and increasingly distant Beth (nominee Mary Tyler Moore) have begun to change.  It has affected his performance at school and relationships with friends.  He begins to see a therapist, Dr. Berger (nominee Judd Hirsch).  He finds potential love with a girl named Jeannine (Elizabeth McGovern in her debut).
And this is the sort of slice-of-life kind of picture it is, there's not a driving plot to it all.  It's about coping with death and the dangers of keeping everything bottled up inside.  The scenes with Hirsch and Hutton are dynamite, the un-nominated Sutherland is excellent in an un-showy role, and I was really surprised at the chops of Mary Tyler Moore in this, never known as a dramatic actress.  Much like it's Best Picture predecessor, Kramer vs. Kramer, it's a very fine, sensitive picture on a difficult subject, with engaging performances all around, but it will always be overshadowed by the movie that it beat on Oscar night.
Besides Raging Bull, Ordinary People took out Roman Polanski's Tess, David Lynch's The Elephant Man, and Michael Apted's Coal Miner's Daughter.  
Comments
Write a comment
You must be logged in to post a comment.