Movie Review: A View to a Kill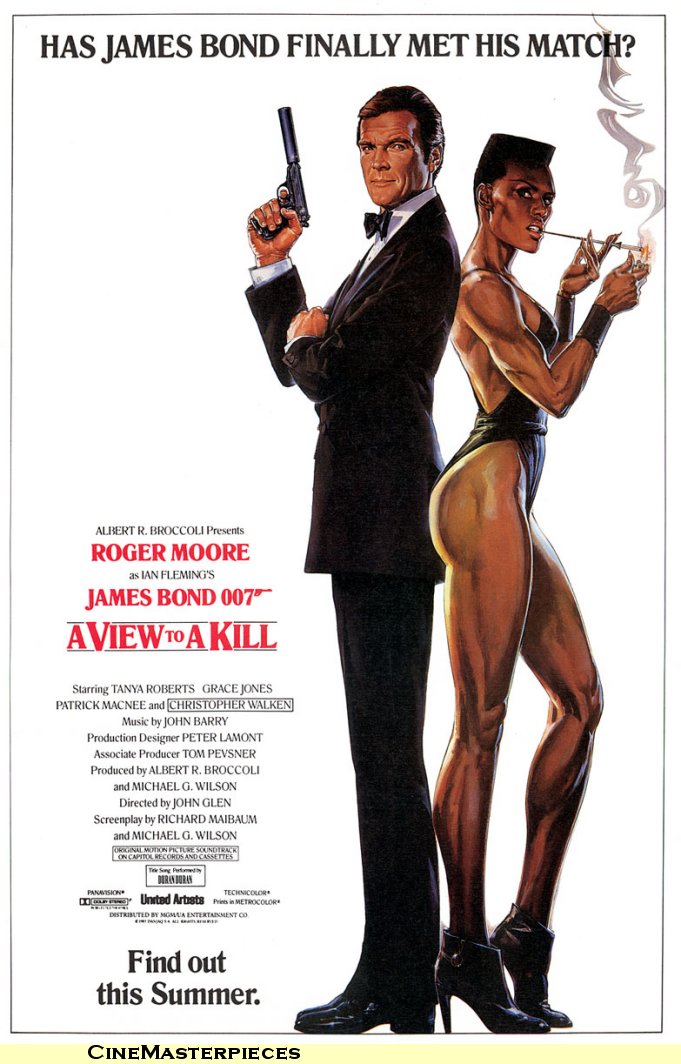 MGM/United Artists, 1985
Roger Moore's seventh and final Bond, at the age of 58, shows how much the Bond franchise had changed from its early days in the sixties. Megalomaniacal villains still lurked in the Bond world, but not everything about them was a thing of wonder like the old days, where they seemed larger than life. Villainy would come in the face of seemingly regular rich white guys. Some of this has to do with the fact that full-length Ian Fleming Bond adventures had run out, and key figures like production designer Ken Adam dropped out of the productions. Plus, movies themselves were changing; they began to rely heavily on stuntwork and special effects to sell the picture.
A View to a Kill has yet another big ski action sequence, the fourth film to have one after On Her Majesty's Secret Service, The Spy Who Loved Me, and For Your Eyes Only. Ski sequences, like train and plane sequences, have by this time become unbelievably old hat. As one of the members of the productions admitted in a long-forgotten documentary I've seen in these past few weeks, Bond pictures mean having to do the same thing over and over again in a different way. I think it was time for re-tooling well before Goldeneye hit screens in 1995.
It doesn't stop the filmmakers from trying to go bigger and better once again with incredibly complex stuntwork, the kind that has become the signature show-stealer during the seventies and eighties. In this film, Bond has to track down rich white guy Max Zorin (Christopher Walken, who might at this point be the most recognizable name to take on a 007 film, and is just about to get into his self-parody phase), who is using microchip technology to win horse races. By causing an earthquake, he hopes to flood the Silicon Valley in California in order to have a monopoly on the technology. He has an elevated IQ due to German steroid experiments with mothers in World War II.
Helping out Bond this time is geologist Stacey Sutton (Tanya Roberts) and Felix Leiter takes a break in this one for Chuck Lee (David Yip). Patrick Macnee of popular sixties TV show The Avengers joins Diana Rigg and Honor Blackman as alums of that program to go on to make a Bond film, playing a horse trainer that helps Bond. Zorin has May Day (Eighties diva Grace Jones) on his side.
The movie has a lot of the elements of a classic Bond, but Zorin is not the genius he is touted to be. You might say, "So what?" but in the past, the villains thought of themselves as genius as they carried out their over-the-top plans. Here, the movie has a biological reason for Zorin to be a genius, with the side effect of being psychotic. But never once do we get to see a brilliant mind at work. He's just like all the other Bond villains who are supposed to be smart, will shoot and kill everyone except Bond, putting him in an escapable trap and leaving.
But, I do like the master plan, because it's so grand and out there that it fits the 007 world. Walken is fun to watch, even though he too has to succumb to cackling villain after awhile, which is one of my bad guy pet peeves. Overall, a decent Bond flick.
Terrible song by Duran Duran, but it's one of the most popular Bond themes and it went to number one on the charts. In 1985, Duran Duran was one of the biggest bands in the world so this is no surprise.
This would be the last film for Lois Maxwell (her 14th) to reprise her Miss Moneypenny role, paving the way for Desmond Llewelyn to take over the all-time Bond appearance lead in Goldeneye.
Follows (depending on your view): Octopussy or Never Say Never Again
Next: The Living Daylights
Write a comment
You must be logged in to post a comment.