Movie Review: Chariots of Fire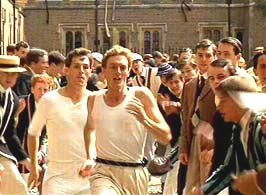 Warner Bros./Fox, 1981
Perhaps the only movie to win Best Picture based on a musical score, at least that's what I think.  Vangelis Papathanassiou's iconic music as men run across a beach is one of the most recognizable in not only film but music history, and yes, of course, it won the Oscar.  The film won a total of 4.  It's an overall good film.  But it beat out movies that have well passed it over time: Steven Spielberg's Raiders of the Lost Ark, Warren Beatty's Reds, and Louis Malle's Atlantic City.  The other nominee was the sentimental acting favorite of the year, On Golden Pond, in which Henry Fonda and Katherine Hepburn were given Oscars.
Chariots of Fire follows the true story of two athletes, Harold Abrahams (Ben Cross), a Jewish student at Cambridge, and Eric Liddel (Ian Charleson), a Christian missionary.  Liddel has proven around the United Kingdom that he's one of the fastest men around, and Abrahams wants to beat him.  After losing to Liddell in a 100-meter race, a track coach by the name of Sam Mussabini (nominee Ian Holm) helps Abrahams find some quicker steps.
But the movie's rivalry sort of ends at that point, focusing on the 1924 Summer Olympic Games in Paris.  As most rivalries go, it is dissolved in an effort to beat the Americans, among others.  The only real conflict that occurs when the movie shifts to the Olympics is whether the Christian Liddell will run a heat on Sunday, the Sabbath.
It's this shift, with no noticeable reason, that makes the movie a bit jumbled.  The whole movie has been setting itself up for this rivalry, and it comes to nothing.  It's very curious indeed why this movie ended up beating so many heavy-hitters in 1981, and again I refer to that soundtrack.  It's a decent movie but clearly doesn't hold up. 
Comments
Write a comment
You must be logged in to post a comment.