Movie Review: The French Connection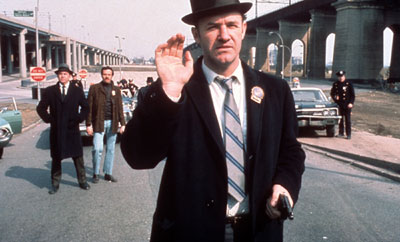 Fox, 1971
The French Connection is a definitive seventies classic, one that made Gene Hackman a leading man and William Friedkin one of the can't-miss directors of the decade (until ego intervened).  Today, we remember the movie for its car chase sequence, and with good reason, but this movie is a fine action thriller all around.  It won the second straight Best Picture prize for Fox.
Detectives Jimmy "Popeye" Doyle (Best Actor Hackman) and Buddy "Cloudy" Russo (Supporting Actor nominee Roy Scheider) make their living by shaking down nobodies, usually black men, for cheap collars.  But every once in awhile, Doyle has a hunch, and beginning with a ho-hum trip into a bar, he and his partner start tailing Sal Boca (Tony Lo Bianco) figuring he's up to something.  Sal's connection is the French Alain Charnier (Fernando Rey), who is planning to smuggle drugs into the U.S. with the help of actor Henri Devereaux (Frederic de Pasquale).
Doyle and Russo get some begrudging help from colleagues, who feel like these guys are never right.  When they don't figure out anything substantial over time, everyone's patience starts to wane.  This is where the dramatic irony kicks in very well for the film and for its ending.  We know that Doyle is right, but we also know he's snakebit when it comes to success.
Add a smart villain to the mix in Charnier, played with panache by Rey, and you have an exciting movie with intrigue and yes, that famous car chase.  The chase is filmed at street level, at high speed, and even today where chase scenes are shot with an overdose of speed and editing, The French Connection's is still near or at the top.
And, I love Gene Hackman.  Always one of my favorites, this is Hackman at his very best, with some juicy dialogue.  And the forgotten Scheider, who still works to this day but in lesser movies, adds capable support.
In 1971, The French Connection beat out Stanley Kubrick's A Clockwork Orange, clearly more iconic now than The French Connection is.  It beat Patton's Franklin J. Schaffner's second straight trip to the Oscars, Nicholas and Alexandra, Norman Jewison's Fiddler on the Roof, and Peter Bogdonavich's classic coming-of-age film The Last Picture Show.
Best Director Friedkin would go on to do 1973's The Exorcist, which yes, I still don't like all that much, but it was of course a huge hit and an Oscar nominee, and the man was on fire.  But with 1977's Sorcerer, Friedkin lost all of his goodwill with that costly bomb, and really hasn't made anything close to his earlier movies since.  He has a horror movie called Bug coming out later in 2007, that might get him back on the map.  We'll see.   
Write a comment
You must be logged in to post a comment.