Movie Review: The Astronaut Farmer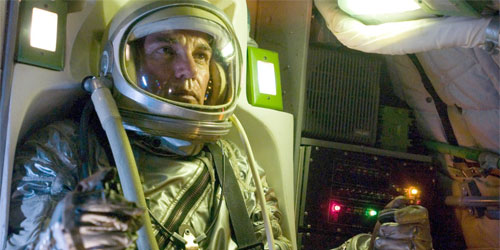 Warner Bros.
The Astronaut Farmer is one of those movies that film geeks are going to hate for the most part, but families are going to eat up.  In a way, it shares some traits of October Sky, although Sky is way more realistic: the idea of an average man building a space-safe rocket in his barn, shooting off into space and orbiting around earth, safely re-entering the Earth's atmosphere and landing…on the ground?, with only his son doing Ground Control, will likely get all the techies out of the woodwork saying how impossible it is.  That's the biggest problem with The Astronaut Farmer, and your enjoyment will depend entirely on how far your willing to stretch that suspension of disbelief.
In a what-if? scenario, rancher Charles Farmer (Billy Bob Thornton) has a dream, that all his little children can watch him shoot into space without the aid of NASA.  He has a supportive wife Audie (Virginia Madsen, again, making two crazy husbands she has to console in a weekend, after The Number 23), an older son Shepard (yep, named after Alan, played by Max Thieriot), two cute little girls (Jasper Polish and Logan Polish, getting a lesson on nepotism), and his father-in-law Hal (Bruce Dern).  When he buys rocket fuel for his nearly complete shuttle, the FBI comes out of the woodwork to harass the would-be spaceman.
The problem with Farmer is that he has large financial troubles, the bank wanting to foreclose on his ranch, and he also has a bit of a 'tude, which doesn't help.  At least he has a lot of friends around town.  With a little help from his lawyer friend Kevin Munchak (Tim Blake Nelson), he is told to embrace the oncoming media coverage and get them to draw public support that will offset all the Patriot Act nonsense that is happening around his home, and especially the worried FAA, headed by Jacobson (J.K. Simmons).
There's a big patch in the middle that I could have just done without; it's so ridiculous and drags the film down for so long that it barely escapes into the better third act, where your disbelief will turn to taffy.  It's got one of those scripts full of lines like, "If we don't have our dreams, then we have nothing," that make me cringe.  But overall it's one of those movies that I enjoyed that I scratched my head and wondered, "Why am I enjoying this?"  Well, Billy Bob Thornton is nearly always a likable actor, and that helps for him to carry the flick.
Families, yes.  True geeks, no.
Comments
Write a comment
You must be logged in to post a comment.