Movie Review: Reno 911: Miami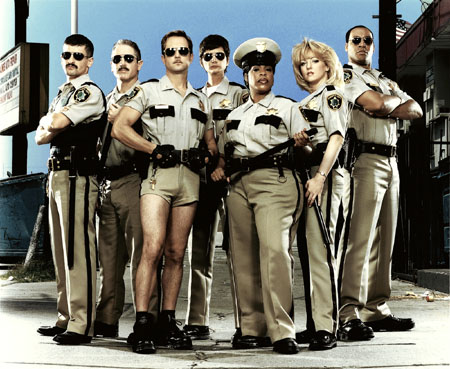 Fox
Critical and cult hit Reno 911! is a pretty funny TV show, but stretched out into a movie, the jokes don't land nearly as hard.  However, there's still enough in this to recommend, especially to die hard fans.  It's just not a breakaway comedy classic, either.
The Reno police force, headed by the short-shorts of Lieutenant Jim Dangle (Lennon) go to Miami for a police convention, and it's not too long before every cop in Miami is quarantined in a building due to some biotech scare.  So, Reno's finest, who are of course ridiculously bad at their jobs, have to keep the city safe.  A couple of subplots include a Scarface-esque gangster played by Paul Rudd, and a Miami police chief played by Patton Oswalt.  There a few notable cameos, but this is mostly the job-to-job antics of the Reno team (including Garant, Kenney, Mary Birdsong, Niecy Nash, Carlos Alazraqui, Wendi McLendon-Covey, and Cedric Yarbrough) many of them eventually resorting to sex and gross-out gags.
There's a pretty funny hotel room scene that's a bit like Hitchcock's Rear Window, and most of the laughter comes from the awkward dialogue and knowing exactly when to end a scene.  Like I mentioned before, this isn't a laugh-out-loud movie throughout, it still works best as a thirty-minute show, but if you're interested, you should get some laughs out of it.
It's kind of hard to figure out writers Garant and Lennon, who wrote the screenplay for this past December's Night at the Museum, a huge hit if not a critical darling, but also The Pacifier (same thing), and absolute dogs Taxi, Herbie: Fully Loaded, and Let's Go to Prison.  Veterans of the cult skit show The State, this seems to be their forte.  How they get into the other kinds of movies doesn't make much sense, but hey, it's a living.
Comments
Write a comment
You must be logged in to post a comment.