Movie Review: American Beauty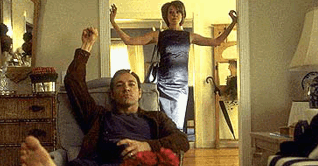 Dreamworks, 1999
Longtime stage director Sam Mendes and screenwriter Alan Ball both made a tremendous feature debut in 1999 with American Beauty, a movie I consider one of the most despised Best Pictures of the decade.  Nominated for 8 Oscars and taking home 5, it very nearly repeated the feat of The Silence of the Lambs by sweeping the 5 major awards, but Annette Bening lost out to Hilary Swank in the Actress category (something that would happen again in 2004).
Lester Burnham (Kevin Spacey, winning his 2nd Oscar in 4 years, this time for Best Actor after a Supporting win for The Usual Suspects) is a man who is losing his grip on his family.  His wife Carolyn (Bening) is an overdriven real estate agent, and his daughter Jane (Thora Birch), who has felt neglected for some time by the trouble brewing at home, has begun to rebel.  Her only friend is Angela Hayes (Mena Suvari), but even she is self-involved.
Neighbors move in, headed by Frank Fitts (Chris Cooper, whose performance was not nominated, but it was a strong year), his vacant, depressed wife Barbara (Allison Janney), and son-with-a-troubled-past Ricky (Wes Bentley), who likes to go around with his video camera and shoot a bunch of random stuff, including Jane herself.  Eventually, they start going out.
Carolyn starts having an affair with a real estate mogul, Buddy Kane (Peter Gallagher), and Lester goes through a midlife crisis, a rebelling of his own, as he quits his job at a magazine, buys an expensive sports car with his severance money, and starts lifting weights to impress Jane's friend Angela (ew gross, right?).  He also starts smoking pot, provided by Ricky, and the two become friends.  All of these events matter to the overall story, with its tragic conclusion, and this is why I think American Beauty is one of the best films of the decade.
It might get most of its hatred from Ricky, who provides the film with the video of a plastic bag floating around, remarking, "Sometimes I feel like there's so much beauty in the world, I can't take it."  This pretentiousness offers itself up for extreme ridicule, and it has been many times (most notably by Todd Solondz' Storytelling).
But for me, I can look beyond that minor flaw and see the great script and direction and awesome performances (Spacey is at his very best).  It sets a great mood and is a perfect mixture of comedy and drama.  It was one of my favorites of the year, although I think Michael Mann's nominated The Insider was my favorite.
Other films nominated were The Cider House Rules, which proved the Academy had a hard-on for Miramax and Lasse Hallstrom (and later re-proved with the next year's Chocolat), Frank Darabont's The Green Mile, and M. Night Shyamalan's great box office phenomenon The Sixth Sense.  1999 was peppered with great films; those that didn't make the cut were Spike Jonze's Being John Malkovich (Jonze's nomination for Best Director, however, knocked out Darabont), Norman Jewison's The Hurricane, David O. Russell's Three Kings, and another favorite I thought should have gotten more Academy respect was Matt Stone and Trey Parker's South Park: Bigger, Longer, and Uncut.  Some might even include David Lynch's The Straight Story.  Any of those probably should have taken The Cider House Rules' place. 
Comments
Write a comment
You must be logged in to post a comment.