Movie Review: Daddy's Little Girls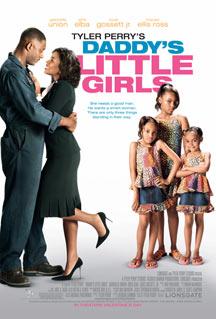 Lionsgate
The world of Tyler Perry is a bit like listening to bands like Switchfoot or Collective Soul; it crosses over into the mainstream with a spiritual message embedded, avoiding the trappings of the label, and sneaking its way into a massive amount of screens. 
Of course, it wasn't that easy.  Perry's Diary of a Mad Black Woman was given little hope to break through, but with a great marketing campaign much like The Passion of the Christ, that film became a surprise hit and solidified his standing.  When the sequel Madea's Family Reunion showed it wasn't a fluke, well, Perry was branded with the golden touch.
For the third straight February, Perry returns, this time behind the camera only, in the story of a single father, Monty (Idris Elba), who raises his three daughters (McClain sisters China, Sierra, and Lauryn) on a mechanic's salary, keeping them away from their destructive mom Jennifer (Tasha Smith), who has shacked up with a thug dealer boyfriend Joseph (Gary Anthony Sturgis).
For some extra cash, Monty drives around hot-but-stiff lawyer Julia (Gabrielle Union).  It's during one of these excursions that the children, left home alone, get put into a dangerous situation and are taken from Monty and given to his ex-wife and boyfriend.  Monty needs the slowly softening Julia's help to get them back.  And the unlikely romance ensues.
This is much like last year's Something New, where an uptight, successful black woman dates a man (in that case, the conflict was racial) unacceptable to her friends.  It's not nearly as good as that movie, but I watched this with some of the target audience (chicks) and they really enjoyed it, even if the ending, while satisfying, doesn't make much sense and is very unlikely.  Perry sticks in quite a bit of preaching, can be a tad unfocused, but it's painless for anyone who might not go for this type of thing and is dragged into it.
Write a comment
You must be logged in to post a comment.