Movie Review: Norbit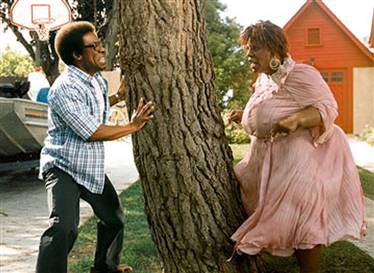 Paramount/Dreamworks
Eddie Murphy is back with his bread and butter, playing multiple characters under heavy makeup in a broad comedy, but with very little room to maneuver, his latest is pretty much mostly a miss.
As a baby, Norbit is abandoned at an orphanage that a Mr. Wong (Murphy) runs, and as he grows up he meets Kate, his childhood love, only to see her get adopted and taken away.  As he gets older, he is saved on the playground by a big girl named Rasputia, who basically forces him to be her boyfriend.
Into adulthood, Norbit (Murphy) and Rasputia (Murphy) get married, and her family of no-good brothers (Terry Crews, Clifton Powell, and Mighty Rasta) threaten to hurt Norbit if he ever hurts their sister.  Not long after, the huge Rasputia cheats on Norbit with her gym instructor, Buster (Marlon Wayans), who is looking for a way to use her brothers' influence in a business deal.  More trouble brews when grown-up Kate (Thandie Newton) comes back home to buy the orphanage with fiance Deion (Cuba Gooding, Jr.) and the two childhood sweethearts start falling in love again.  Of course, Deion is a no-good swindler, hoping to marry Kate for the money and dump her.  And he teams with Rasputia's brothers in an effort to turn the orphanage into a strip club.
Yeah, there's a lot going on in this, which is all over the place for the most part (tons of screewriters will do that).  Eddie Murphy, always watchable, finds humor in a lot of places with all three of his characters, but it's never consistent.  Thandie Newton, who's a red-hot cutie, is given absolutely no jokes and is as dim as people get (There's a scene where Norbit has to lie to her and hurt her, and it's so obvious that he's doing this that you wonder why she doesn't pick up on it.  There's the movies for you).
Adding more to the all-over-the-place nature of this are pimps Pope Sweet Jesus (Eddie Griffin) and Lord Have Mercy (Katt Williams).  They appear every once in awhile to help Norbit out, and prolong the movie (a scene where they delay the wedding near the end is pretty lame and feels exactly like it would in real life: get on with it).
Like I said, some laughs are present, but you have a feeling about not watching this, then by all means trust that instinct. 
Write a comment
You must be logged in to post a comment.