Movie Review: Live and Let Die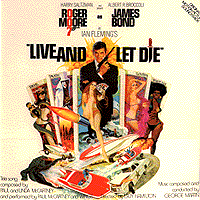 United Artists, 1973
With Sean Connery calling it quits after Diamonds Are Forever, producers Harry Saltzman and Albert R. Broccoli brought in Roger Moore from TV's long-running series The Saint, and Moore would go on to do seven straight Bonds. Officially, he would become the most prolific of the 007 actors. He was already older than Connery in the first place (by three years), and became the oldest ever to play Bond at 46 (he'd be nearly 60 by the time he finished).
And how is Roger Moore? Well, he's a different Bond. Sean Connery's versatility could make him any Bond he wanted to be; he could be tough, he could be humorous, he could be sophisticated, all at once. Moore brought more dignified English gentleman into the role of 007, and kept much of the humor as well. I think this is why he was such a successful Bond even after the popular Connery left.
Live and Let Die places Bond against his most difficult challenge yet: black people! Yes, all the villains in the movie are black, and so came with it some controversy, much like Ian Fleming's source material.
I am in agreement that there shouldn't be much inferred into the all-black villainy, but certainly the movie could have done without an exchange between Bond and a black taxi driver zipping him into Harlem where Bond promises a $20 tip to go there, and the driver replies, "For $20 I'll take you to a Ku Klux Klan cookout!" Ugh.
The basic story involves three British agents getting offed in America, masterminded by San Monique's leader Kananga (Yaphet Kotto), who uses a tarot card reader named Solitaire (Jane Seymour, one of the finest Bond girls) to make his decisions. Bond goes to the U.S. and once again hooks up with pal Felix Leiter (played, once again, by an actor not reprising the role, David Hedison). Kananga is being helped by a mysterious New York gangster named Mr. Big in an effort to control the heroin trade.
It's in Live and Let Die, which I watched out of order from the rest of the films (it's the 13th Bond I watched during this marathon), where I realized that just about anything goes in a Bond flick, even if it doesn't make any sense. The villains in the movie all seem to know exactly where Bond is going to be, and what the circumstances are going to be, to appear out of nowhere and make trouble (it seems like the mysterious mole from the beginning of Dr. No has never been caught).
In later movies, you'll see Bond enter into a gondola equipped with Q gadgets (the Venice scene in Moonraker) after following a woman to some random spot, you'll see him somehow get out of a big gorilla suit and be ready to leave the hatch of a train in the time it takes the bad guy to look down and get a weapon in Octopussy.
Back to Live and Let Die: It's almost unwatchable. It's one of the worst Bond films, but it also proved to be a big hit, proving that the Bond franchise was bigger than any story or backdrop the filmmakers could put him in. It doesn't matter that one of the most annoying characters I've ever seen in a film, Sheriff J.W. Pepper (Clifton James, who would actually reprise this role in The Man with the Golden Gun with what would become a popular character) takes up a huge chunk of the movie, while our hero is out on a speedboat and leaves the picture for a very long time. The speedboat chase drags much like the train sequence in From Russia With Love. Get on with it, already.
There are two memorable things about Live and Let Die: likely the most popular theme song ever by Paul McCartney's post-Beatles band Wings, and Jane Seymour. So gorgeous. Moore made a good Bond, but what a terrible movie.
Follows: Diamonds Are Forever
Comments
Write a comment
You must be logged in to post a comment.