Movie Review: Titanic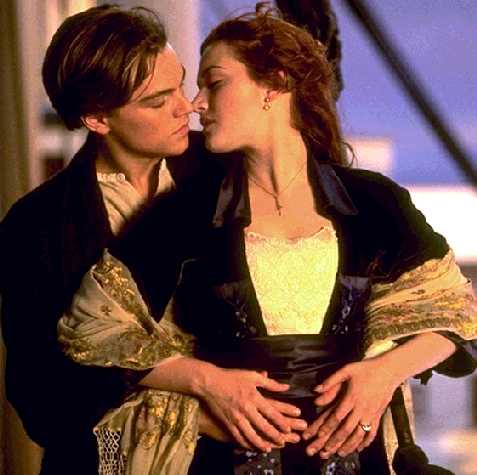 Paramount, 1997
The grandaddy of all box office champs, there was no way Titanic was going to lose Best Picture, even though the Academy had previously snubbed all-time #1's in the past with 1975's Jaws, 1977's Star Wars and 1982's E.T.  The film went on to gross over $600 million domestically and $1.8 billion overall (both #1 all-time).  It got nominated for 14 Oscars (a record matching All About Eve) and won 11 (a record matching Ben-Hur and later matched by Lord of the Rings: Return of the King).
Writer/director James Cameron hasn't done any feature films since this phenomenon, but before this he had regularly supplied theatres with dependable hits like 1994's True Lies, 1986's Aliens, 1984's The Terminator, its 1991 sequel, and 1989's The Abyss.  Always a techie guy, with a perfectionism only compared to Stanley Kubrick, Cameron made a movie that men and (mostly) women saw again and again; buoyed by a December 19 release pushed back from the summer (which in my opinion not only made it the #1 hit of all-time, but won it Best Picture), we're unlikely to ever see a movie get close to this kind of money again, no matter how high the movie theatre prices go.
A simple story: Titanic survivor Rose DeWitt Bukater (nominee Gloria Stuart) tells her tale to a salvage crew looking for a valuable diamond, headed by Brock Lovett (Bill Paxton).  She tells of Jack Dawson (Leonardo DiCaprio), who wins a poker game to get onto the fated "unsinkable" Titanic, saves spoiled and betrothed young Rose (nominee Kate Winslet) from jumping off the ship in an attempt to drown her troubles away, chief among them marrying the asshole Hockley (Billy Zane), who is rich and can provide her family with wealth and status.  The match is urged by her mother Ruth (Frances Fisher), and of course, once Jack gets into the picture, it sets up a big rich versus poor, Romeo and Juliet style of romance.
Oh, but wait, this is about the luxury ship Titanic, which crashed into an iceberg on April 14, 1912 in a trip from England to New York.  And Cameron makes the disaster into a grand spectacle, something that the guys in the crowd came to see: death and destruction.  And we see if Jack and Rose can survive.
I really, really liked Titanic, even though I can understand any criticism it might get.  It works as a drama and an action picture, much of the reason why it was such a huge hit.  But film nerds, including me, wished nominee L.A. Confidential could have been named Best Picture, because that film was excellent on so many more levels.  But when you look at the history of the Academy, L.A. Confidential was not an epic and was only a modest hit.  Titanic had the same thing going for it that LOTR: Return of the King had: an overwhelming fan base that would probably boycott the Oscars if their film didn't win.  Meanwhile, we film nerds always watch no matter how unfair, so screw us.
Titanic also beat James L. Brooks' As Good As It Gets, the Brit comedy The Full Monty (still scratching my head on that one), and the Matt Damon/Ben Affleck breakthrough, Gus Van Sant's Good Will Hunting.  It's one of the few films to get Best Picture and Director but have no nomination for writing, which I think everyone agreed would have had no merit anyway: writing is not Titanic's strong suit. 
Also, Winslet and Stuart got nominated for playing the same character in the same movie, something that had never happened (Marlon Brando and Robert De Niro did it in separate movies, The Godfather and its sequel, nominees Judi Dench and Cate Blanchett both played Elizabeth in 1998 with Shakespeare in Love and Elizabeth, and then Dench and Winslet matched the feat in 2001's Iris).
Paramount was the studio of the nineties, at least in Best Picture wins.  This was its 3rd Best Picture in 4 years, after Forrest Gump in 1994 and Braveheart in 1995. 
Comments
Write a comment
You must be logged in to post a comment.