Movie Review: A Beautiful Mind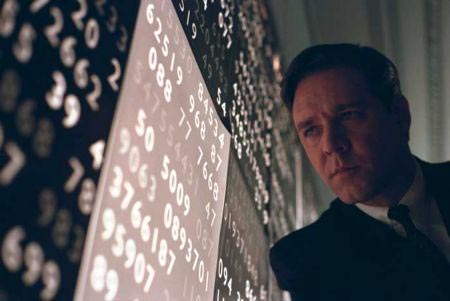 Universal
Longtime boy wonder director Ron Howard finally got his first Oscar nomination and win, after being snubbed in 1995 for Apollo 13.  Howard has never been a critical darling; he always has made popular movies just on the cusp of being great.
The win came for A Beautiful Mind, which is under an interesting subgenre of film I'll call "The Crazy Mathematician."  Other films exploring the subject in the last decade would be 1997's Good Will Hunting, 1998's Pi, and 2005's Proof.
Mind is based on the true story of John Nash (Russell Crowe, nominated for Best Actor for the third straight year, losing to Denzel Washington), who we first see in his days at Princeton looking for a truly original idea to advance his doctorate.  He is an odd guy, fumbles when he talks, but he has some support from friends Sol (Adam Goldberg) and Bender (Anthony Rapp), along with rival Hansen (Josh Lucas).  Less brainy support comes from his roommate Charles (Paul Bettany), who seems more interested in partying than anything.
He struggles with that original idea, getting tough love from his professor Helinger (Judd Hirsch), but eventually he does find it, theories that changed the field of economics and leads to grants and a professorship.  He has trouble teaching, but it's part of the deal, and at least he meets cute future wife Alicia (Best Actress Jennifer Connelly).  His work leads him into helping the government with codes, and his handler is Parcher (Ed Harris), who tells him to scan through magazines and find hidden Communist messages, delivering his work to a secret lab.  Only problem is, Nash is inventing Parcher in his head.  Not only that, he was inventing his friend and roommate Charles and his nonexistent niece.
The rest of the movie involves Nash's recovery, can he stop seeing the figments of his imagination, and can he continue to do the work that defines his career?
I was a little underwhelmed by A Beautiful Mind on the first try, but I like it a bit better now.  I think where the film sort of loses it is when we discover Nash has been inventing a lot of what we've seen; it's an emotional downer.  This is the point, of course, but perhaps Howard could have let us in on this from the beginning.  Ironically, you probably know that this is the case well before the reveal, so it almost seems like a waste of time.  I'm not sure how you tell the story of John Nash without using his perspective, but that's the challenge.
Still, Crowe drew me in and my heart broke when he's discussing his imaginary friend Charles and says, "I sure miss talking to him."  And the beginning of this film is very strong, so it's not like it's terrible. 
In 2001, A Beautiful Mind beat out the first chapter of The Lord of the Rings trilogy, The Fellowship of the Ring, Todd Field's In the Bedroom, Robert Altman's last very good film Gosford Park, and perhaps my favorite out of the group, Baz Luhrmann's Moulin Rouge!  Mind was an epic, critical, box office hit and had a few things going for it over LOTR, which had the same traits: Academy voters were probably curious how the trilogy would play out, and probably had 2003's Return of the King in their crosshairs as the ultimate award even then.  Also, this was sort of a lifetime achievement for Howard, who had long been in the same club with Spielberg and Zemeckis, who were honored several years previously.
I'm also a little conflicted about writer Akiva Goldsman winning an Oscar. Perhaps it was his usual involvement with Joel Schumacher in the nineties, in which he penned some real stinkers like Batman Forever and Batman & Robin, and The Client, and well, we'll let A Time to Kill slide.  But then add Lost in Space and Practical Magic, and then you might very well wonder how this guy won an Oscar, but writing is sometimes hard to single out in certain movies, maybe he finally got a chance to shine.
Write a comment
You must be logged in to post a comment.