Movie Review: Gladiator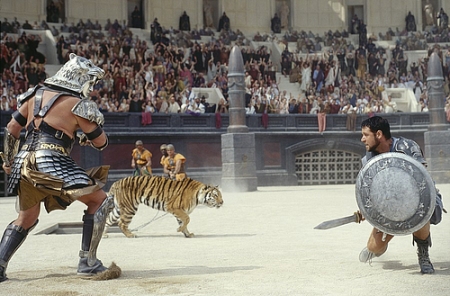 Dreamworks, 2000
Ridley Scott hit a second prime during this period, well into his sixties, in which he would do this and the next year's Black Hawk Down.  The director of sci-fi flicks like Alien and Blade Runner had hit a rough patch after his great Thelma & Louise in 1991, doing films like 1492, White Squall, and G.I. Jane.  Gladiator, released in the kings/swords/honor month of May that Braveheart occupied five years previous, went on to become a huge hit and got nominated for 12 Oscars, winning 5, but following a fairly new, but increasingly familiar pattern for the Academy by not giving Scott the Director win (it went to Steven Soderbergh for Traffic).
In Gladiator, Maximus (Russell Crowe, winning Best Actor after being snubbed for L.A. Confidential and losing out on The Insider) is a top soldier in Caesar Marcus Aurelias' (Richard Harris) army, and Aurelias, close to death, wants Maximus to take over the city of Rome.  This upsets Aurelias' son, Commodus (nominee Joaquin Phoenix), taken more as a slight from his father than an actual need for power.  Commodus kills his father and arrests and arranges a death warrant for Maximus, who escapes, knowing his family might be in danger.  He is too late, and exhausted and grievous, is captured by a trader.
The trader sells him to Proximus (Oliver Reed, in his final film), a man who takes people in as slaves and has them fight in arenas, much to his financial gain.  Meanwhile, Commodus settles in as the new Caesar, hinting at taking his sister Lucilla (Connie Nielsen) as his wife someday, who lost her husband long ago and has a son, Lucius (Spencer Treat Clark, who had a pretty good one-two punch with this and Unbreakable).
Eventually, Commodus reinstates gladiator battles, something his father outlawed and made people like Proximus petty criminals.  Gladiators once were able to fight for their freedom.  Maximus, along with fellow slaves Juba (Djimon Hounsou) and Hagen (Ralf Moeller) have been making quick work of the amateur circuit, and this is their chance.  Maximus hopes to avenge his family, and Commodus wants respect he feels he deserves.
I didn't like this much on the first viewing, probably because I watched it really late at night and it was so long.  But watching it now, this is a good film, especially seeing Phoenix and Crowe in their face-to-face showdowns, both actors very method-like.  Action fans will be pleased to see Maximus and others fighting in all sorts of eclectically violent situations, including one involving tigers, a feat that won this film Best Visual Effects.
2000 was kind of a bad year.  Two of Steven Soderbergh's films, Erin Brockovich and Traffic, got nominated.  Both of those are fine, and it's probably the reason Soderbergh ended up ousting Scott.  Then, unbelievably, the Weinsteins were able to get the unworthy Chocolat in the race (although thankfully, the seemingly always-nominated Lasse Hallstrom didn't get a director nod).  After that, it was another Oscar favorite, Ang Lee, and his Crouching Tiger, Hidden Dragon, which also got a Foreign Language Picture nom.  I was kind of surprised Cast Away, flaws and all, didn't get one of the noms considering it was an epic, had pretty good critical support, and was the 2nd highest grossing film of the year.
But Gladiator had all three of the main traits, and it easily won.  Most film nerds would have chosen Traffic that year, but it's one of those too-dark flicks that have to contend with an epic crowd-pleaser and there was no chance it was winning.  Dreamworks won its second Best Picture in a row, sort of echoing what Orion did in the nineties, and folding much like they did soon after (although Dreamworks was bought by Paramount, while Orion just folded).
This might also be the last film you see for awhile win Best Picture and have the theme of vengeance as a good thing, considering that the following year, with September 11 and the price of vengeance sparking a slew of films with that very topic, usually negative, has taken place ever since.
Write a comment
You must be logged in to post a comment.