Movie Review: Terms of Endearment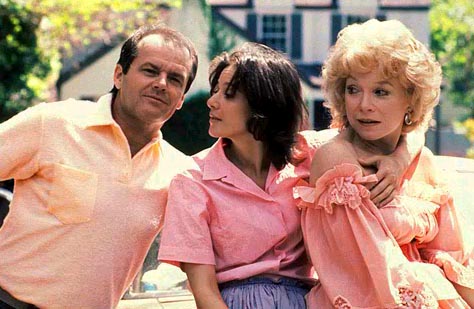 Paramount, 1983
Longtime TV producer James L. Brooks, one of the main men behind seventies hits Mary Tyler Moore and Taxi (and later The Simpsons) made a spectacular writing/directing feature debut in 1983 with Terms of Endearment, which was second only to Return of the Jedi at the box office and won 5 Oscars, 3 by Brooks himself as writer, producer, and director.
It's the story of Emma (nominee Debra Winger, who is incredibly fun to watch) and her mother Aurora Greenway (Best Actress winner Shirley MacClaine), and how their lives change after Emma marries fledgling teacher Flap Horton (Jeff Daniels).  Aurora is opposed to the match for a number of reasons: Flap will never have a steady job, but mostly she's upset that her daughter, who functions as best friend, will be out of the house.
Things begin well for the Hortons, and it's not long before they have a family.  However, Aurora's misgivings about the marriage soon become apparent, and Emma and Flap start going through a rough patch.  She thinks he's cheating on her, and she ends up cheating on him with aw-shucks banker Sam Burns (nominee John Lithgow).  Meanwhile, Aurora tries to find love with astronaut Garrett Breedlove (Jack Nicholson, winning his 2nd Oscar in 7 tries, this for Supporting), who can't shake his bachelor ways.
Terms of Endearment is most famous for what happens to Emma, her bout with cancer that leads to its status as a weepie.  But what sort of gets lost in that hazy memory is classic Brooks dialogue, some very well-aimed barbs that he would later infuse into his classic 1987 Best Picture nominee Broadcast News and 1997's BPN As Good As It Gets.  MacClaine, who is terrific, has one of the best when a doctor says to her "I tell people to hope for the best and expect the worst," and she replies, "And they let you get away with that?"
In 1983, Terms beat out Lawrence Kasdan's The Big Chill, Philip Kaufman's excellent The Right Stuff, Bruce Beresford's Tender Mercies, and one I'm not very familiar, Peter Yates' The Dresser.  Despite not having the sweep of a traditional epic, Terms does tell its story over several years, and it was a huge critical and box office draw.  It was really no contest considering the competition.
Write a comment
You must be logged in to post a comment.