Movie Review: The Silence of the Lambs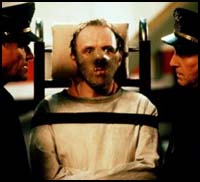 Orion, 1991
One of the most abnormal Academy Best Pictures ever, The Silence of the Lambs was the third film to ever win the "Major 5″ awards: Picture, Director, Writing (Adapted), Best Actress, and Best Actor, joining It Happened One Night and One Flew Over the Cuckoo's Nest.
Clarice Starling (Jodie Foster, winning her 2nd Best Actress) is an FBI trainee with a specialty in psychological studies.  It is under this guise that her boss, Jack Crawford (Scott Glenn) sends her into a mental hospital with a special dungeon for the criminally insane, led by Dr. Frederick Chilton (Anthony Heald), and holding the most brutal, intelligent serial killer of all time, Dr. Hannibal Lecter (Anthony Hopkins, Best Actor, relatively unknown to American audiences at the time).
Crawford wants Starling to ease into conversation about a new killer, Buffalo Bill (Ted Levine), and what insights Lecter might be able to fork over that might help them catch him.  Lecter is not easily brought into this game, and Starling has to break some of the rules Crawford has laid down for her, like not telling Lecter anything personal, to get it.  It also involves some concessions to Lecter's imprisonment, not as tight as usual.
Meanwhile, Buffalo Bill has a new victim in his lair, a Senator's daughter named Catherine Martin (Brooke Smith), and the clock is ticking.
The interplay between Starling and Lecter is the big draw here, as famous as scenes get, as well as a frightening climax that involves Lecter's escape and the hunting down of Buffalo Bill.  Demme's trademark camera angles where the actor talks almost directly into the camera is particularly effective, and eerie.  His style completely immerses a viewer into the film.  And of course, the iconic turn by Hopkins as Lecter was so good, so right for the film, that when he reprised it ten years later in Hannibal, even he couldn't emulate it just right.  There was always something scarier about Hannibal Lecter behind the bars rather than on the outside.
After this film, the slew of serial killer copycat films was on, and thus watching the movie now seems almost like watching one of those copycats.  But being objective, The Silence of the Lambs has always been one of the best of the lot, with a serial killer you actually "like," a heroine you root for, and more importantly, is actually pretty scary.  And, unlike many of those that followed it, is directed with confidence and verve by Demme.
In 1991, Silence beat out Oliver Stone's brilliant JFK, Barry Levinson's Bugsy, Barbra Streisand's The Prince of Tides, and what was the first and probably last animated film to ever get a Best Picture nom, Disney's Beauty and the Beast.  It's pretty easy to see why Silence did the improbable there, because the category was fairly weak for the most part.  I never felt like Bugsy was beloved, The Prince of Tides is just kind of your usual Streisand melodrama, and I don't think anyone was ready to vote for a cartoon to be Best Picture.  That left JFK, but considering the controversy it might have lost most of the conservative Academy.
Now-defunct Orion won their second Best Picture in a row after Dances with Wolves.  And Ted Tally never wrote anything like this again.  Also, if you're tired of the bad sequels, like Hannibal and Red Dragon, check out Michael Mann's Manhunter, which was based on Harris' Red Dragon, had Brian Cox as Lecter and William Petersen as the guy trying to nab him.  It's a very good flick.
Write a comment
You must be logged in to post a comment.