Movie Review: Catch and Release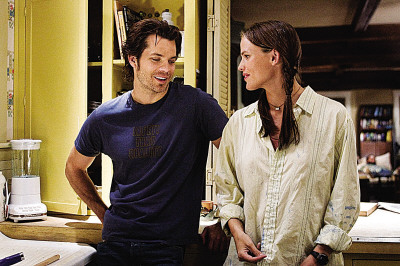 Sony
In Release Hell for a year, Catch and Release finally got released.  And yep, it's a mess!
Gray Wheeler (Jennifer Garner) has just lost her fiance, and now she has to pick up the pieces.  She moves into his old room in a house where the depressed but funny Sam (Kevin Smith), unrequited admirer Dennis (Sam Jaeger), and future paramour Fritz (Timothy Olyphant) live.  Holding to romcom tradition, Gray doesn't think much of Fritz at first. 
She finds out that her fiance has about a million dollars to his name, left to him by his rich mother (Fiona Shaw).  But the money may go to his child from an indescretion with massage therapist Maureen (Juliette Lewis), the whole matter a terrible surprise to Gray, who questions Fritz as to when Maureen was in the picture, before her or during?  Maureen comes to visit, she seems really nice, doesn't want a million dollars, just wants the little bit of money she had always been getting.  But eventually, a DNA test is going to have to come out of this.
Somehow, the movie fits in insignificant subplots like Sam's depression or Dennis' feelings for Gray, but overall it's your typical stuff.  Romantic comedies, more than any other genre, have to find some sort of strange angle to tell their stories because they've been done to death.  Some succeed in standing out, others, like this, are one of the million. 
Kevin Smith very well runs away with this picture, spouting dialogue that sounds like he wrote it.  Everything else, well, you know what to expect. 
Comments
Write a comment
You must be logged in to post a comment.