Movie Review: The English Patient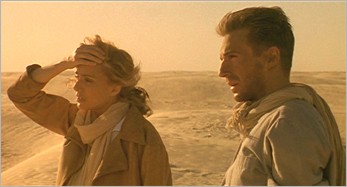 Miramax, 1996
1996 was the year of the independent, as the only big studio entry for Best Picture was Sony's Jerry Maguire.  Ironically, The English Patient began as a studio production at Fox before conflicts came into play and in swooped the Weinsteins.
Winner of 9 Oscars including Best Picture, The English Patient may be the most reviled of the nineties winners among film fans; either this or 1999's American Beauty.  Classic television show Seinfeld famously riffed on its length and supposed boredom.  I, however, am not among this crowd.  This is a stunning film.
Mapmaker Laszlo de Almasy (Ralph Fiennes) is in North Africa on the verge of World War II, doing his job, thanks to a wealthy explorer with a plane, Geoffrey Clifton (Colin Firth) bringing his wife Katherine (Kristin Scott Thomas) along.  Geoffrey gets called elsewhere during this expedition, leaving Almasy and Katherine alone, and after some icy interaction, begin an affair.
This is recalled by Almasy, badly burned from a plane crash, on a bed in an Italian villa, being taken care of by a nurse Hana (Juliette Binoche, who won Best Supporting Actress).  Hana is a save-the-world type, feeling she's jinxed and is responsible for the deaths of people she loves.  Her newest love interest is a minesweeper, Kip (Naveen Andrews), with obvious bad juju attached. 
As Almasy approaches certain death, a Canadian, David Caravaggio (Willem Dafoe) visits the villa asking questions about the burn victim, with revenge in mind.  Almasy's recollections decide whether Caravaggio will take his life or not.
The film is a series of flashbacks, with the Almasy/Katherine affair as its emotional center.  He is a cold bastard, worldly and well-read, a true man, especially compared to her husband, whom she's known all of her life and had a kind of brother-sister relationship before marriage.  She obviously wants adventure, and Almasy is good for that, but he's distant and often gives mixed signals.  So yeah, it's kind of a chick flick with an epic backdrop.
But this is such a well-told tale that it should never be classified as narrowly as a "chick flick."  Ralph Fiennes was the go-to guy in the nineties, with Schindler's List, Quiz Show, and this, and his complex performance demands attention.  Kristin Scott Thomas, then a relative unknown (and said to be the reason Fox ended up dropping the film in the first place), is excellent.
But perhaps the most surprising facet of The English Patient was Anthony Minghella.  Nothing on his resume suggested he could handle a picture with this kind of scope; his previous film was the romantic comedy Mr. Wonderful.  He had a chance for another Oscar in the Adapted Screenplay category, but that went to Billy Bob Thornton's Sling Blade.  Legendary film editor and soundman Walter Murch (Apocalypse Now) won two Oscars; surprisingly, his first for editing after being nominated in the category three previous times.
In 1996, this film beat Cameron Crowe's Jerry Maguire, Mike Leigh's Secrets & Lies, Scott Hicks' Shine, and probably my favorite film of the year, Joel and Ethan Coen's Fargo.  It was an interesting year; The English Patient had the right amount of critical and box office success to be the overall winner, but its epic scope was probably the determining factor in its victory over the bigger box office success of Maguire.  As far as those that might have been left out, I think Shine is strictly a performance movie and either Thornton's Sling Blade, Milos Forman's The People Vs. Larry Flynt, or John Sayles' Lone Star, another of my favorites from the decade, could have taken its place.
But count me as one not disappointed that The English Patient came out with Best Picture.
Comments
Write a comment
You must be logged in to post a comment.