Movie Review: Million Dollar Baby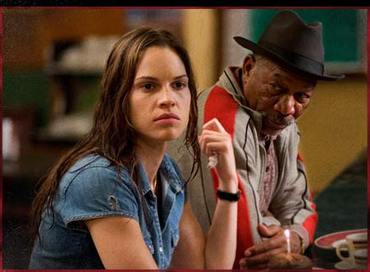 Warner Bros., 2004
This review came from my old site, the L & N Line.  I've changed some stuff here and there. 
This is Eastwood's 26th directorial feature, according to my count. I haven't seen a lot of Eastwood's early work, but I love Unforgiven and liked Mystic River very much. He's got a lot of well-known features and some notable missteps, but he's doing very good work at his age. 
This is a superb drama, filled with heartbreaking performances.  Veteran trainer Frankie Dunn (Eastwood), after being fired by his long-time fighter, reluctantly finds a project with female boxer Maggie Fitzgerald (Swank). Maggie has all the toughness and drive it takes, and it becomes apparent after several early fights that she is clearly a higher class of boxer, all of which is going to lead to a title bout with a dirty boxer named The Blue Bear (Lucia Rijker).
Dunn is the father figure Maggie never had, and she plays the daughter figure (his real daughter returns his letters marked "Return to Sender"). Ahh, but there's demons. Dunn used to be a "cut man" for former contender Eddie Scrap-Iron Dupris (Freeman), who works and lives at the gym Dunn runs. Dupris is blind in one eye, and Dunn blames himself for not somehow stopping the fight that caused it. His guilt runs his handling of his fighters, which obviously leads to frustrating mismanagement. However, Maggie is something special, and her conduct gives Dunn a second wind in managing her.
Unfortunately, critics got caught up on this "twist" that occurs later in the film. It may be the most controversial debate in film for 2004, after you consider the hoopla of Passion of the Christ and Fahrenheit 9/11.  Some say this turn hurts the movie, but I'm not one.  As for the performances, I think Eastwood did deserve his nomination, which means I think Depp (Finding Neverland) should have been left off for Giamatti (Sideways). His face is so expressive, and seemingly filled with every burning feeling in the book.
But, Hilary Swank is awesome in this (she won her 2nd Oscar for this, after Boys Don't Cry). Her character has so much integrity, and she just sucks you in from the moment she hits the screen. Morgan Freeman? Isn't this guy the best actor to never win an Oscar? (Freeman won for this)Â Much like in The Shawshank Redemption Freeman has a narrative role, but he's the everyman character who establishes the balance of the picture, and who better than Freeman to be that?
What a great film.  In 2004, Million Dollar Baby beat out my favorite, Alexander Payne's Sideways, but since MDB was my second favorite, I didn't shed any tears.  Then there was Finding Neverland (ugh), Ray (good…but that good?), and Martin Scorsese's second clearly-going-for-the-Oscar (but still very good) The Aviator (after 2002's Gangs of New York).  In 2004, my top 5 also included the likes of The Incredibles, Kill Bill, Volume II, and Spider-Man 2, but considering the Academy, I thought they should have nominated Eternal Sunshine of the Spotless Mind instead of Finding Neverland.
This film gave momentum to Clint Eastwood and writer Paul Haggis.  Eastwood, already having been nominated for Mystic River the previous year, took home 2 out of a possible 3 Oscars (for awhile, it looked like the hype machine might win him Best Actor, but Jamie Foxx was unstoppable for Ray).  That has continued into 2006 with his Iwo Jima twosome.  It proves he may be the most beloved figure in Hollywood.  Haggis, meanwhile, who didn't win for Adapted Screenplay (that went to Sideways), went on to have a huge night the next year for Crash and with his teaming with Eastwood again in 2006, is still on a roll.
Comments
Write a comment
You must be logged in to post a comment.