Movie Review: The Sting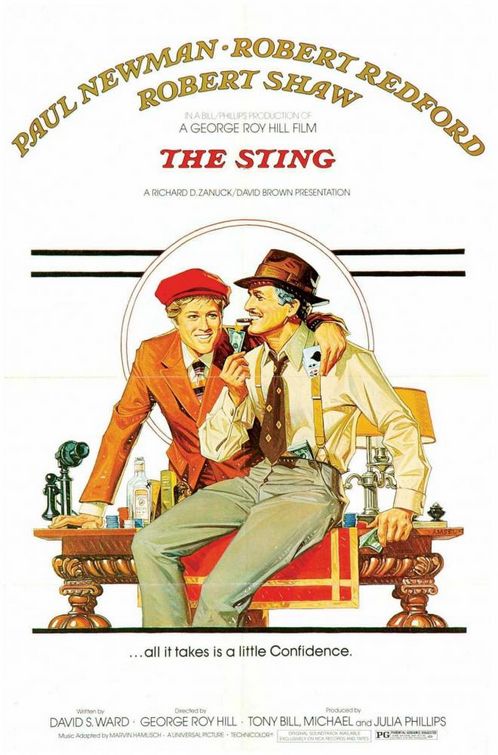 Universal, 1973
Robert Redford and Paul Newman teamed again with their Butch Cassidy and the Sundance Kid director George Roy Hill and led The Sting to 10 nominations and 7 wins, including Best Picture and Director.  Oddly enough, this famous duo only got one acting nomination between them for both films, with Redford's loss here to Jack Lemmon for Save the Tiger being the only one.
The Sting, out of all the Best Picture winners of the seventies, might be the most fun of the bunch.  Grifter Johnny Hooker (Redford) has just pulled off the biggest scam of his life, only to blow it all at roulette and piss off a big New York gangster, Doyle Lonnegan (Robert Shaw), who plans to kill all involved.  This includes the retiring Luther Coleman (Robertearl Jones) and Erie Kid (Jack Kehoe).
The law is also on Hooker's tail, represented by the no-good Lieutenant Snyder (Charles Durning), who would rather just make a buck to look the other way.  Hooker, knowing his life is in danger, wants to play the Big Con on Lonnegan and get Snyder off his back, enlisting the help of pro Henry Gondorff (Newman), who hires the best scam artists in Chicago.  Through a well-planned scheme, Lonnegan becomes interested in a horse-betting racket that unknowing to him, is completely made up.
If you can't enjoy a movie like this, then you really can't enjoy movies on the whole.  Movies like this probably would have no chance to get made today, much less win Best Picture, because critics and audiences might dismiss it as a throwback, or a purely fun film with no awards aspirations.  In any case, it's fun as hell watching Newman, Redford, and Shaw in their prime, along with a tremendous supporting cast including Harold Gould, Ray Walston, and Eileen Brennan filling in the gaps.  
What really sells it is the authentic thirties look, with all-time Oscar-winning champ Edith Head doing the costumes (who won her 7th here) and art direction from Henry Bumstead and James W. Payne.  There's also a charming score from Marvin Hamlisch, adapting Scott Joplin's "The Entertainer" for the film's signature theme music.  Also, all the "dirty" stuff is hinted, winked-winked, and there is no cursing.  Considering the era in which this film was made, that was a bold move, since everything was becoming darker.
The Sting and 1977's Annie Hall represent the last straight-up comedies to win Best Picture, even though they contain aspects of other genres as well.  2002's Chicago is the closest, but it probably would not have won Best Picture if it had not been a musical.  In 1973, The Sting beat out William Friedkin's The Exorcist (thank goodness), George Lucas's American Graffiti, and a couple of movies in which I'm not too familiar: A Touch of Class and what probably was a "lifetime achievement" nod to Ingmar Bergman for Cries & Whispers.
Comments
Write a comment
You must be logged in to post a comment.