Movie Review: Arthur and the Invisibles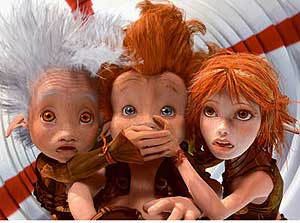 Written and directed by
Luc Besson
based on his books
Weinstein Company
Arthur and the Invisibles had a qualifying Oscar run in December, only to be disqualified from the Best Animated Feature race because it didn't have enough animated footage compared to live action.  They needn't have worried, though, because this had no chance against all the other stuff that came out last year anyway.
Luc Besson has always had a teenager's mentality when it comes to his action films.  The Professional, La Femme Nikita, and especially The Fifth Element (which he wrote at 15) are fun, often over-the-top vehicles that embody the spirit of popcorn filmmaking; movies you can watch over and over again and not worry about the flaws.
Besson tries his hand at the kiddie popcorn flick here with Arthur and the Invisibles.  Arthur (Freddie Highmore) lives in his grandparents' country house with Granny (Mia Farrow) while his parents (Penny Balfour and Doug Rand) have been looking for work in the city, missing his tenth birthday.  His grandfather has been away "to Africa," Granny's way of keeping the fantastical truth from Arthur: he's actually underground in another world.
The house is in trouble; collectors are coming by and asking for exorbitant dues and another man needs payment in 48 hours or the house belongs to him.  Arthur figures out that his granfather has left him clues on how to get to the fantasy world, and there lies a treasure that can help save the day.  He follows the steps and then…everything becomes animated, and he interacts with the Minimoys, a small group of people and creatures who stand for peace and harmony.
Arthur warns The King (Robert De Niro) of the danger above and sends Princess Selenia (Madonna) and her brother Betameche (Jimmy Fallon) to the lair of the evil Maltazard (David Bowie), where the treasure lies.  Maltazard, like all big villains, wants to rule the world…at least, the underground.
Besson again shows over-the-top inventiveness, even though the movie can be a mess during action scenes, especially since the animation isn't high caliber.  A bad sign is when you can name a ton of movies that one movie steals from, like Honey, I Shrunk the Kids, or A Bug's Life and Antz, not to mention a bit of Sword in the Stone.  So those uninitiated with the films before it will find themselves in a truly unique world.
It's mostly entertaining, though.  And kids should have a good time.
Comments
Write a comment
You must be logged in to post a comment.