Movie Review: For Your Eyes Only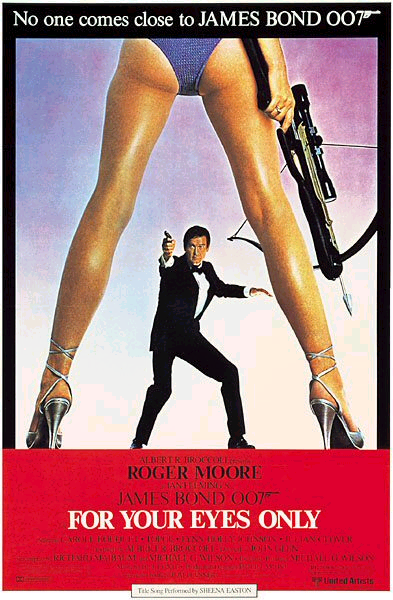 MGM/United Artists, 1981
For Your Eyes Only entered 007 into the eighties, and with it, the Bond film took on characteristics of many of the dumb actioners of the decade. The fifth Bond director, John Glen, had worked as editor and second unit director on three previous Bonds and would begin his record-breaking run at the helm (he would do all five of the official Bond films in the eighties).
Bernard Lee had been M for all eleven previous Bonds, but he would turn ill and pass away in 1981, passing the torch to Lois Maxwell as Miss Moneypenny for claim to starring in the most films in the series (now at twelve). Desmond Lleweyln would keep pace with his tenth overall. This film contains one of the top five famous theme songs in Bond history, the title song sung by Sheena Easton.
In this outing, James Bond (Roger Moore, in his fifth 007 picture), dispatches Blofeld (John Hollis voices) again in the pre-credit sequence during a helicopter stunt. While Bond aficionados might have gotten a kick out of seeing SPECTRE's arch-villain again, he has been reduced to a cackling version here, and the entire sequence was ruined for me by his incessant maniacal laugh. Welcome to the eighties.
The main story involves a British submarine containing a sensitive device known as ATAC, which is a communications device that in the wrong hands could mean big trouble. One problem for would-be thieves of this device, however, is that it has a self-destruct mechanism if it is not disarmed properly. The submarine is attacked and Bond is sent to find out what happened to the ship and the device. A marine archaeologist named Timothy Havelock (Jack Hedley) and his wife Iona (Toby Robins) are killed in front of their daughter Melina (Carole Bouqet), who vows revenge and complicates matters for Bond. Eventually, he's able to provide some reason to the would-be avenger.
Bond investigates the hired killer, which leads to a payoff man, which leads to an even bigger criminal fish in Milos Columbo (Topol). Bond's informant in all things Columbo is Aristotle Kristatos (Julian Glover), whose name should tip you off as to who the real villain is in all this. Seems as though Bond is in a little game where he finds out where the ATAC is, dismantles the self-destruct, all playing into the hands of Kristatos.
But once again, even though the basic story is a good one, the movie goes all over the place to arrive to that basic story. For Your Eyes Only is considered one of the best of the Moore Bonds, one of the best of the series even. But for me, forgetting for a moment that there's a horrible era-specific score by Bill Conti in this film, the action, I felt, gets really ridiculous. Perhaps it's even ridiculous of me to suggest that in the world of Bond, ridiculous shouldn't be accepted. I don't know what the intangible factor is that makes one bit of over-the-top action great, and another just plain stupid, but here it felt out of control.
There's way too many characters; there's a not-even-a-subplot involving an Olympic-hopeful skater, Bibi Dahl (real-life skater Lynn-Holly Johnson), continuing the double-entendre tradition, with her coach Jacoba Brink (Jill Bennett), that adds nothing. There's yet another ski action sequence in this one, the third I've seen so far, and the filmmakers clearly know this territory has been covered before because they make it one of the most unbelievable sequence of events I have ever seen involving motorcycles and a rush down a bobsled track. There are so many secondary villains, I wished Jaws could make a return. There's one secondary villain who is apparently so strong he can pick up a motorcycle and throw it at Bond, but damn if he doesn't seem all that threatening.
And this is a Bond that if you read enough about, and watch the "Making Of" documentary, where director John Glen wanted to return to the "simple Bond." This is a bunch of nonsense. None of the style and sophistication is present anymore from the earlier films, the action is exceedingly over-the-top, and even though I love Julian Glover (once considered to be a Bond at one time, and probably best-known recently for playing the villain in Indiana Jones and the Last Crusade), he's never really a supervillain in the tradition of Blofeld.
This might be one of the best of the series for some, but not me. Maybe I'm missing something, but I didn't like it.
Criticism aside, there are a couple of interesting notes. Cassandra Harris plays Countess Lisl von Schlaf, a key figure in the plot. At the time of filming, she was married to future Bond Pierce Brosnan (and was married to him until her death in 1991). I mentioned Julian Glover and The Last Crusade, which of course also featured former Bond Sean Connery.
Follows: Moonraker
Next: Octopussy
Write a comment
You must be logged in to post a comment.