Movie Review: Rain Man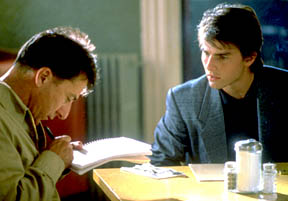 MGM/UA, 1988
One of the most famous characters ever created, and certainly one of the icons of the eighties, is Raymond Babbitt, played with utmost sincere method charm by Dustin Hoffman, who won Best Actor.  What is essentially your typical road movie with a mismatched couple turns into something very meaningful by film's end.
In this, Charlie Babbitt (Tom Cruise, who in later years got more credit for his contribution to this movie) is a rare car dealer who has run into money troubles.  His father has just passed away, leaving three million dollars to someone he doesn't know, later finding out it's a caregiver for an older brother he has never met, Raymond (Hoffman).  Raymond is a savant; he does not connect to people very well and surrounds himself with order to make sense of the world.  This makes it difficult for Charlie to settle the issue of the money, and he basically kidnaps Raymond in order to take him back to California from Ohio.
After Raymond very frightfully makes his feelings on flying known, there's only one way to take him back and that's driving.  It's during this adventure that Charlie begins to develop a soft spot for his brother, learning things about him even though a conventional relationship isn't possible.  Also, we get to see the amazing mathematical skills of a savant, which are either exploitative or amazing (or both) depending on your view.
Also in tow, off and on, is Charlie's girlfriend Susanna (Valeria Golino) who helps Charlie develop a heart in all this.
When I was younger, I didn't really like Rain Man.  It was because, well, I didn't understand it.  Rain Man is an entertaining film, a huge hit critically and financially, and it was an easy Best Picture over Mike Nichols' Working Girl, Alan Parker's racially-charged Mississippi Burning, Stephen Frears' Dangerous Liaisons, and Lawrence Kasden's The Accidental Tourist.  It also won Barry Levinson Best Director.
But easily the show-stealer is Hoffman, who I don't think has been nearly this good since.  This was his second win for Best Actor after Kramer vs. Kramer, and he beat out the likes of Gene Hackman for Mississippi Burning and Tom Hanks for Big.  But look at his flawless affectations, never once breaking character, doing everything that seems right for Raymond to do.  He's funny, he's touching, heartbreaking, overall a very complex character for someone with hardly any emotion and so much structure.
I read a small snippet about this film in the book Hit & Run, an unflattering look at executive producers Jon Peters and Peter Guber.  Guber's idea, according to the book, was to have Raymond attend a Dodgers game and then somehow get into the game, pitch, and win it for the Dodgers.  Man, I'm glad that didn't happen, but it sure is funny thinking about it.
Write a comment
You must be logged in to post a comment.